5 most common PayPal scams and how to avoid them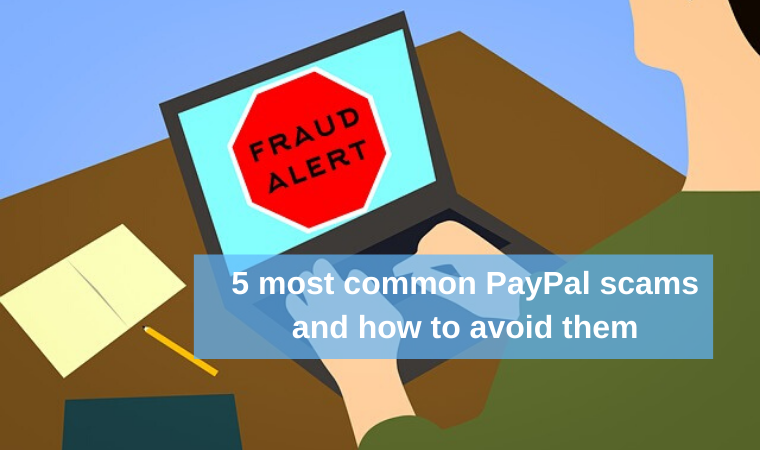 PayPal has consummated as a reliable and secure service for online transactions around the world. No matter if you are an individual, or a merchant, PayPal always offers you a solution to fit your needs the best.
But as a digital payment sphere grows, online fraudsters strengthen their positions as well.
Despite PayPal, like any other payment provider, implements state-of-the-art methods to prevent online fraud, there is no way to be 100% protected form scammers.
Here are five common PayPal scams every merchant should be aware of.
Phishing
Phishing is a reasonably common form of Internet fraud, based on the carelessness of users on the Web. To extract personal data, logins, passwords, bank card numbers, or other vital information from users, scammers create fake pages of store sites, banks, email clients, and social networks. Visually, they do not differ from the original ones, so an inattentive visitor enters their authorization data, after which they lose everything.
Merchant, or individual, may sometimes face with fake emails, or phishing emails. Such methods are commonly used to get personal payment data, such as CVV, password, or card number.
Scammers send users emails where you are asked to perform a specific targeted action. They try to fake these letters as if they were sent by the company and offers you to either confirm the purchase, or enter the card details, or follow the link.
If the user follows such a website and fills out a form, they may lose their credit card information.
In the case of receiving a suspicious letter, PayPal recommends to send it to the [email protected]. PayPal support will determine this letter to be fraud or not.
Fake address
When completing a purchase, a merchant can see shipping details in their account. Before delivering, scammers can ask a merchant to ship a good to the address, which differs from indicated.
The shipping company, after a few unsuccessful deliveries, marks the goods as undelivered. After that, a scammer reports the correct delivery address. After receiving the parcel, a scammer complains that they did not receive the goods. Since a merchant, in fact, has no evidence of proper delivery, the merchant loses both the money for the return and products.
Hacked PayPal account
Another widespread method of online fraud is account hacking. If a scammer gets a merchant's account access, they have an opportunity to send money to another account or to buy something.
PayPal can indicate that the transaction is fraudulent and refuses to transmit it. In any case, a merchant should contact PayPal support as soon as possible.
Overpayment
In some cases, the fraudster tries to make a payment to the merchant's account, which exceeds the price of a good. Further, they contact the merchant and report that they were mistaken and sent a larger amount. The merchant, of course, returns the remainder to the fraudster.
After that, the fraudster complains to the PayPal support service and claims that they did not pay, and their account was hacked.
Paypal, in this case, returns the full amount of goods, and a merchant loses both money and goods.
Fake Email address
Fraudsters can sometimes fake letters, passing them off as those sent by PayPal, and inform that the merchant's account is blocked until they provide certain information.
Needless to say that PayPal never does this. With this scheme, fraudsters have the opportunity to receive goods for which they did not pay.
How to prevent PayPal Scam
There are many ingenious schemes of fraud, and fraudsters are continuously inventing new ones. Although no software ensures 100% security, PayPal has several tips every merchant should follow to minimize online fraud.
Many fraudulent emails report that your account is at risk, you should follow the link and enter some details immediately. It is fake. Also, an official letter from PayPal never contains file attachments or programs. Malicious software may p in attachments, so never open them.
Some scammers replace the real address bar of the browser with a fictitious one so that everything looks like you are on an official website. If the address seems too complicated, the site may be fake.
Expensive or popular products are in demand among scammers. Therefore, it is worth checking such shipments more carefully.
Insist on signature confirmation delivery.
PayPal can monitor merchant's transactions more carefully if you are part of the Seller Protection Program.
If a seller does not take any actions over fraudsters, they will target such a merchant for several times. If you think it is a scam – block it.
A user is not always able to timely avoid clicking on a suspicious link. But specific means of assessing the security of sites will help make browsing the Web more secure.
Such tools are suitable as a first defense, but you should still avoid unusual links. These services are not able to intercept every suspicious link because the attackers are continually creating more and more. In general, the best protection is the awareness and attentiveness of sellers and buyers.