Alternative payment methods: Why your business needs them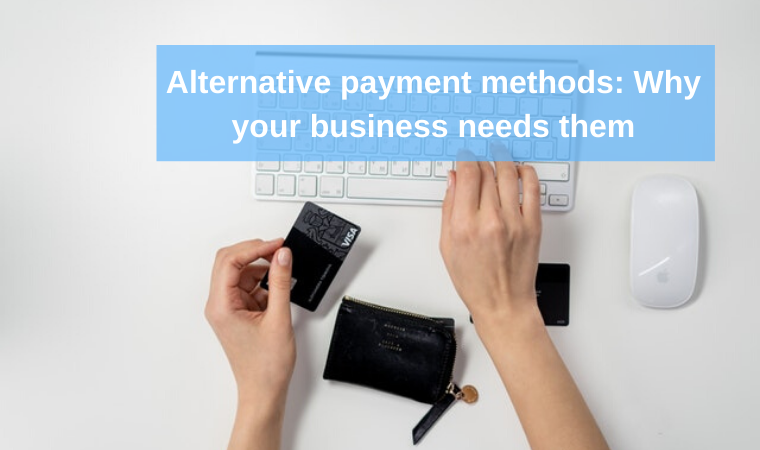 What are alternative payment methods? Such a term is used for payment methods that do not use cash or plastic cards of well-known leading payment systems.
Alternative payment methods include:
Bank transfers;
electronic wallets;
prepaid cards;
"buy now, pay later";
mobile payments, etc.
The popularity of such payment methods is since many large financial organizations began to offer consumers faster and more convenient ways of providing transactions.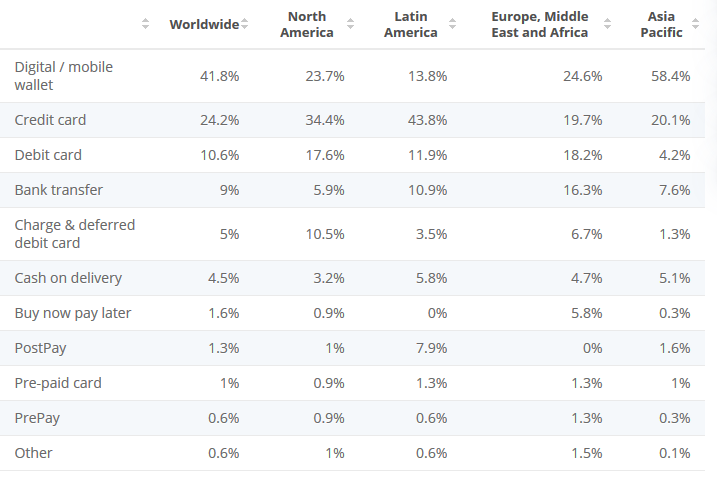 Source: Statista
As we can see, despite the presence of traditional payment methods, people are also actively using alternative payment methods due to the unique advantages they provide.
Types of alternative payment methods
Online banking
Online banking is a system that allows you to manage bank accounts and perform other financial transactions via the Internet without visiting a bank. To get access, you need to open an account, then activate the service in the bank, having received a login and password; and then go into the service from an ordinary PC, laptop, or even a mobile device using the username and password.
This method has become widespread and has been warmly accepted by consumers. The examples are well-known brands such as IDEAL or Sofort.
But there are some disadvantages to this method too. Many criticize this method for the possible low data transfer rate. Although it's significantly cheaper than transfers via plastic cards, the transfer can take up to a whole day. It is also likely that if you work with a high-risk business, your transactions may be denied. Accordingly, at such a low speed, the number of chargebacks increases.
However, many of these systems have improved in recent years, allowing people to easily scan a QR code and directly pay for their purchases using biometric data.
Direct debits
This payment method is well suited for recurring payments or subscription payments. It is an excellent opportunity to customize recurring payments using the API.
Digital wallets
Digital wallets are a type of prepaid account in which the user can store money for any subsequent online transaction using only biometric wallet/password authentication.
E-wallet providers do not need a bank license. Indeed, it is better to work with reliable suppliers of digital wallets, which nevertheless have a banking license. Paysafe, Skrill, and Neteller are well-known examples of such digital wallets.
Many companies provide some additional opportunities, such as financing. Even though their commissions are still quite high for the seller, for consumers, this is a convenient way to pay, because you can link your bank account and pay directly by simply logging into your account.
Delayed payments
This type of payment is very useful when paying for purchases in large amounts and not only. The bottom line is that money is withdrawn only when the buyer confirms receipt of the goods. It allows you to reduce the number of chargebacks and increase customer loyalty.
What are the advantages of alternative payment methods?
Reduce fraud risks
Convenience is not the only advantage of alternative payment methods. One of the key features is security. Credit cards are often scammed, and customers are increasingly looking for new secure payment options.
Payment methods such as Swift or Google Pay have advanced technologies that provide data encryption. Besides, various authentication methods prevent third parties from gaining access to users' bank data.
Expand your business
With the development of electronic commerce, the number of electronic payments has grown.
It will not be superfluous to repeat that the actual conversion of a site visitor into an actual client is completed only after payment. The business doesn't have to lose its customers due to the lack of payment options provided by your site. Offering convenient payment options, you can quickly close the deal and make sure that the client will not leave your site without a purchase.
It should be noted that people tend to feel more comfortable when they see a common payment method and are more likely to complete the purchase.
Often, business owners refuse alternative payment methods, citing the high costs of integration and maintenance. However, they will help simplify the payment process and increase company profits.
Final thoughts
As we can see, humanity is actively entering the era of electronic payments. Alternative payment methods most often have several advantages over traditional payment methods, including low cost, reliability, and speed. New ways allow you to make transactions around the world without fear of security.
Payment provider PaySpace seeks to provide merchants with the broadest possible range of payment opportunities in all countries of the world.
Also, our company provides multi-level protection against fraud and chargebacks.
If you want to receive more detailed information, fill in the feedback form, and we will get in touch with you shortly.