Bitcoin & Gambling: How Bitcoin Is Disrupting The Online Gambling Industry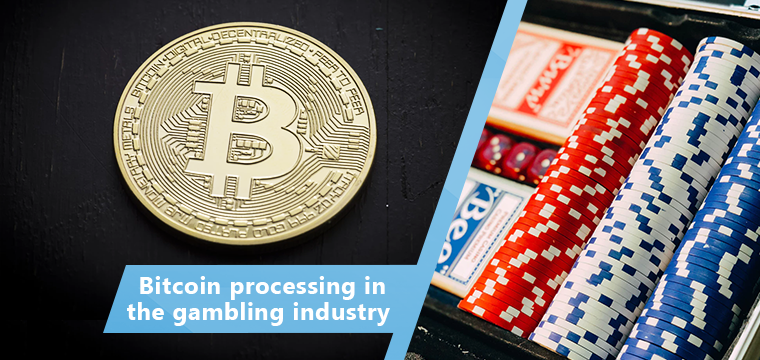 Gambling expands its horizons to break out into our phones, computers, and tablets. People no longer need any casinos to try their luck at winning some good cash. As a result, numerous transaction methods and payment trends emerge, taking the bitcoin industry by storm. These new tendencies, other than chips and currency bills, are now reshaping payments in the gambling world.
Bitcoin is the major casino newcomer. This relatively new type of currency is setting standards and opening up new opportunities for the future of payment processing.
Bitcoin casinos are becoming more and more popular among players. Paving its way towards gambling, bitcoin began setting the trends in payments. Just a few years ago, it was prevalent in the underground gambling only. As time passed by, bitcoin kept slowly but surely making its way into the open gambling. In result, bitcoin carved its own place among trends for the future of payment processing as a legitimate and reliable currency.
As a clever way of targeting more clients, online casino operators have also welcomed cryptocurrency. That's why bitcoin continued taking over fast, becoming one of the hottest trends in payments of 2018.
Despite bitcoin's rapidly growing popularity, the majority of new gamblers are not well-informed about new trends in payments in the gambling industry. As a new player using bitcoin at casinos, you need to be aware of the main facts reshaping the gambling industry. Luckily, this article has everything you need already covered.
Payment Trends in the Gaming Industry in 2018
When casino players are introduced to an alternative payment method, the first thing they want to know is how efficient it is when it comes to payment and funds withdrawal. The more practical the trends in payments are, the more likely they will be accepted.
For this reason, bitcoin has taken the gambling industry by storm, spearheading trends in payments in 2018. Nowadays, bitcoin is among the latest trends in payments industries, as it is leading the way for cashless payment forms.
Cryptocurrency is rapidly changing the trends in payments in 2018, getting a lot of play. More people continue to venture into bitcoin mining. Some of them do so to earn extra income, while others want to keep up with the impressive trends for the future of payment processing. One thing is clear: bitcoin has successfully set itself apart from the rest of the top trends in payments.
Why bitcoin is worth a shot for casinos
As payments industry trends forecast, bitcoin may become the leading payment method in a short while. Since bitcoin can be divided into numerous sections and compared to other payments industry trends, people have a chance to get their hands dirty in the game.
Contrary to normal currencies, bitcoin payments don't make you pay any transaction fees. Though this is a strong factor, there are some other reasons explaining why this virtual currency is leading among other payments industry trends. They include but are not limited to:
Ease of use

Flexibility

Anonymity

Ability to make transactions from any part of the world
How to buy, deposit and withdraw bitcoin?
Buying bitcoins is possible only if you have an e-wallet. In lay terms, buying bitcoin is almost the same as opening a bank account. It involves a few simple steps:
Find a bitcoin wallet and register.

Link your bitcoin wallet to your bank account.

Purchase bitcoin.
Each bitcoin is worth a certain value
How we pay in the future requires the safe use of money. Depositing bitcoin entails keying in your wallet information on your casino deposit page. It allows you to specify how much money you intend to use to play in the casino.
Funds withdrawal happens the same way. During the process, you are required to visit the casino's online platform, fill in your information, and check out the withdrawal tab. As a player, you will be asked to provide your bitcoin address and the value of bitcoin to withdraw. Bitcoin processing is pretty fast and takes a maximum of 24 hours to transfer.
Challenges driven by the use of bitcoin in casinos
Just like any other latest trends in the payments industry, bitcoin has some skeletons in the closet. The bitcoin payment industry trends are overwhelmed with challenges. The listed below problems may affect businesses that make bitcoin their primary source of income.
Scamming.

Lack or poor licensing and documentation.

Lack of stability due to the increased criminal activity.

Big-games-big-risks issue.
Despite bitcoin's growing popularity, it's difficult to forecast how we'll pay in the future. All modern trends in payments turn around the traditional currency. Though bitcoin processing is thriving in some sectors, it is still making slow strides in the world of gambling. Only a few casinos accept bitcoins today.
As you can see, using bitcoin as a payment method is a pretty controversial thing. On the one hand, these trends reshaping payments have numerous risks due to their virtual nature. Online criminals can find their way into bitcoin wallets, getting away with all your money. On the other hand, online casinos give digital currency impressive positive feedback. Bitcoin is fully secure, anonymous, and convenient payment method.
As more and more people welcome the use of virtual currency, bitcoin continues to grow, taking a significant turn towards the cashless society. These trends are reshaping payments and gaining their necessary momentum now. In the nearest future, they may take over to compete with other payment industry trends.
Though cash still dominates in our day-to-day spending, other trends keep emerging as well. With bitcoin's growing popularity, businesses are slowly but surely coming around to the fact that bitcoin is here to stay.