EU regulations: Their impact on EU payment habits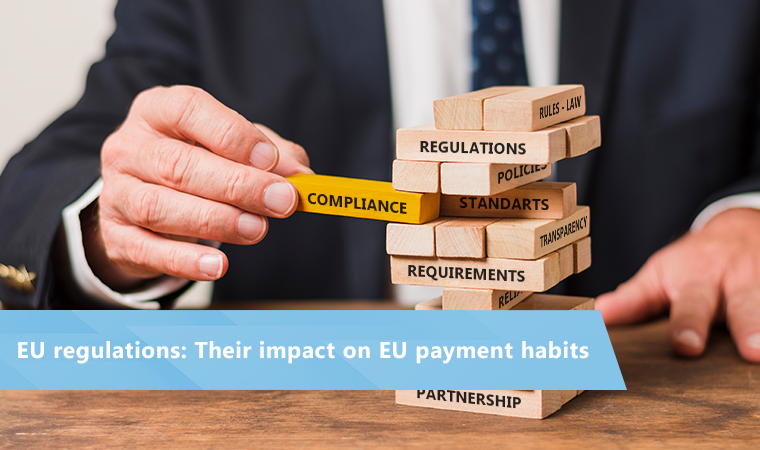 Do EU regulations affect EU payment habits? We think so.
The growing popularity of alternative payments solutions and digital commerce further leads to digitalization trend. With regard to Western Europe, the market value for financial cards and payments transactions reached approximately 9.2 trillion euros. Substantial regional differences in EU payment habits, though, interfere with the single development model of payment methods across European countries. The performance record of the economies, along with the migratory flows and the uncertainty tailing by Brexit, might be to blame.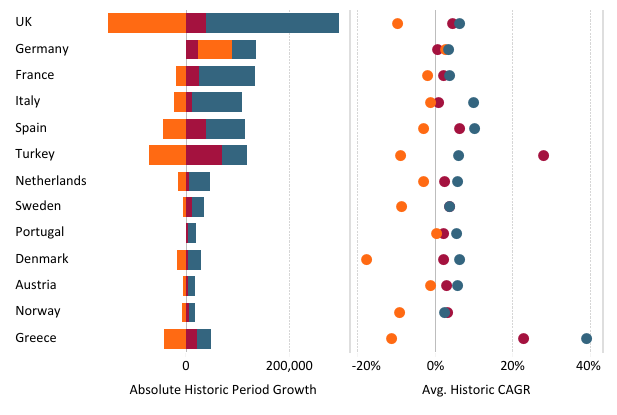 Source: Euromonitor's International Passport Consumer Finance
Mobile commerce, including in-app payments and mobile browser payments, is the dominant factor driving strong digital commerce growth, due to rising smartphone adoption, an increasing shift towards online shopping, and improvements in network bandwidth. Mobile commerce accounts for 48 percent of digital commerce sales globally as of 2017. It is forecasted to reach 70 percent by 2022 (tripling to $4.6 trillion).
North goes for cards; South goes for cash
The core difference in EU payment habits is rooted in the payment methods preferences in Northern and Southern countries.
On the one hand, the majority of the UK, Scandinavia and France transactions are processed via card and mobile. On the other hand, citizens of the Southern countries still prefer paying with cash. The governments implemented initiatives to campaign citizens for digital payments. No matter their efforts, Western Europe is a long way from going cashless.
The rise of pre-paid cards in the debit-cards world
Economists report regional growth of credit card payment processing in certain areas. Spain and Italy are the Southern Europe pioneers paving their way towards a digital economy. The EU payment habits that changed the tendencies along with the reduction of interchange fees by the EU in 2016 furthered the innovation.
The role of debit cards stands out in the payment processing context. The user-friendly contactless technology makes them suitable for small daily purchases. Moreover, debit cards provide clients with tighter control on spending. This is one of top priorities for those experiencing shopping addiction patterns.
Pre-paid cards have seen double-digit growth in the previous five years. Over and above being a safe online payment method, pre-paid cards have been utilized by governments to hand out the government benefits. Private companies have also used them to honor the laborers.
Europe's leading and lagging countries in e-commerce
With an increase in digital payments, e-commerce in Europe is gaining momentum. According to the latest Forbes research, The United Kingdom is leading in the niche with 86% of the population purchasing products online. Sweden has 84% rate, while Denmark, Germany, Luxembourg, Netherlands, and Switzerland remain at 82% rate. The countries like Montenegro (18%), Macedonia (20%), Romania (23%), Bulgaria (27%) and Turkey (32%) are currently lagging behind.
Best European e-commerce platforms in 2019
Even though WooCommerce has a commanding position in the global e-commerce with a 28% market share, Magento has dominated in Europe with 24.6% rate. As stated by Hivemind study, WooCommerce falls behind, with 19.8% of e-commerce websites now using the platform.
"If we look at a country breakdown of ecommerce technologies we can see that Magento dominates the majority of northern Europe, e.g., UK, Ireland, Netherlands, Germany, Denmark and Switzerland," Hivemind suggests.
"However, Prestashop has a stronger presence amongst the top one million sites hosted in Portugal, Spain, France, and Poland. Overall, the Prestashop platform has seen no growth overall and in fact has been demoted below OpenCart in terms of popularity."
As for today, OpenCart (7.4%), PrestaShop (6.4%), OsCommerce (5.8%) and Shopify (5.4%) are ranking among top shopping cart software solutions in Europe.                                                                                 
European e-commerce growth prognosis for 2021
According to the IPS research, Western Europe will show the slowest e-commerce sales growth rate globally. By 2021, e-commerce will represent 11% of retail sales in Western Europe.
Since the UK is an absolute leader in the niche,  the experts predict that country's e-commerce growth will be faster (15%) than in other Western European countries in 2021.
Germany and France has the second and third highest rates for e-commerce sales in Europe. Mobile commerce will promote growth, accounting for 37% of e-commerce sales in Germany and 27% in France.
Nordic countries are falling back when it comes to e-commerce adoption. Online sales made 10% of retail sales in the Nordic countries in 2017. Meanwhile, e-commerce sales in the UK, Germany, France, Italy and Spain had a share of 9% on average.
Summary
In the course of the next five years, regulatory changes and actions executed by the EU will impact the payments market to a great degree. The Payment Service Directive 2 (PSD2) enacted in January 2018 is predicted to transform payment backdrop in Western Europe. The determination of Open Banking will benefit authorized companies with an option to gain access to client's accounts as well as to initiate payments. The ease and speed of this upcoming payment method might contest card payments in the future, particularly online setting.
In regard to e-commerce sales growth, Europe lags behind any other region globally. By 2021, e-commerce will represent 11% of retail sales in Western Europe. We believe that Magneto, OpenCar, PrestaShop, OsCommerce, and Shopify will be  among the most popular platforms for selling online.