5 best financial management apps in 2019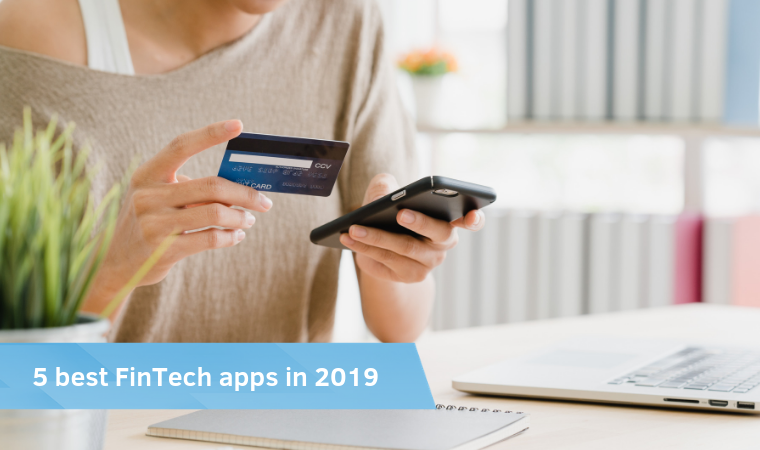 We use our mobile devices in almost every aspect of our lives today; finance is not an exception. We can now use our phones to pay bills, pay our rent and even send money. Fintech apps have made life a lot easier and give instant access to your money. Here is a look at the best financial management applications in 2019.
Top financial management apps in 2019

Bundil is an investment app that allows you to save your spare change from purchases through your cards into cryptocurrency. For every purchase you make, the application rounds it up and sends the change to your Coinbase cryptocurrency account.
You first need to have an account with Coinbase and link it to the Bundil Platform. This is a great way to ride the crypto wave without making large investments or learning too much about it.
You can choose which crypto coin you want the app to invest in and change it accordingly when you want a different digital currency.
Pros
      

You do not need a deep understanding of cryptocurrencies to make the investments

      

The app helps you save your change in a unique way

      

Easy to use and integrate with your daily expenses
Cons
      

Cryptocurrency can be volatile, and you may end up losing money
Availability: iOS, Android
Price: $1 per month
Runway is designed for start-up companies and especially founders without any background in finance or accounting. As a startup, money projections are an important aspect for every business for future predictions.
With this application, you can create hypothetical business models and observe how your different money-related decisions affect your company in the future.
This is a great tool for projecting your expenditure and cash flow, hence you can better adjust your business plan. Financial forecasting is an aspect every business faces struggles with. It truly is one of the best financial management apps in 2019. With it, you will not only get information about financial fluctuations in the market but also thanks to the acquired data, will be able to select a payment system for your company more precisely.
Pros
      

The application is easy to use and navigate

      

The tool can be used to pay bills such as rent straight from your phone

      

Great simplicity and usability
Cons
      

The Runway app can only work with major institutions

      

It only works with the US dollar currency, meaning it would be difficult to use it with international clients

      

No interface to use the tool with external software such as other financial tools
Availability: across all mobile platforms
Cost: free
Inly is a fintech application that is used to create invoices fast and with accuracy. An invoice can be quite confusing and time-consuming to create. Furthermore, not everyone understands how to create one.
Creators of the tool state that it is excellent for art careers that do not like to create invoices. Inly can make specific agreements to help you do business analytics on your progress.
Importance of invoices cannot be downplayed. It often ensures you receive payment faster from your client. Invoices are also great for maintaining records to keep track of your profits and losses.
Pros
      

Responsive customer support as you can talk to them if you encounter any problems

      

Great application design which makes the experience fun

      

You can create custom contacts, which allows you to invoice specific clients quickly
Cons
      

You can only use the US dollar in your transactions; this may hinder you from invoicing international customers easily

      

Not available on Android, limiting many people who do not have an iOS device
Availability: iOS only
Price: $6 a month
Cryptocurrencies have become a huge aspect of the financial market. Many people are starting to trade and purchase different currencies. Robinhood crypto allows you to purchase the cryptocurrency of your choice with no incurring any added costs like many other trading platforms.
This fintech app tracks news, the prices of cryptocurrencies and gives you an alert when prices change. The application is easy to use as you can start trading as soon as you register. You can also use your bank balance to make deals and not just to see your cryptocurrency balance.
Pros
      

This application is secure with additional high-security features, which means that your bank and personal details are safe

      

No additional transaction fees, making the app cheaper to use while transacting cryptocurrencies

      

You can use your bank account to trade, making it convenient if you do not have enough cryptocurrency to do a transaction
Cons
      

You can trade both stocks and crypto, making it a bit confusing especially for new traders
Availability: all mobile platforms
Cost: free
One of the top financial management apps of 2019, Honeydue was made for couples who would like to track and manage their expenses. Spending is a big cause of arguments in many couples. And this fintech app aims to reduce them. With the tool, you can share your expenses, expenditure, and balance with your partner.
You can also split expenses with your significant other automatically while budgeting your individual or a shared account.
What makes this app so unique is that you can comment directly on your expense and explain it, or comment on your partner's spending and ask why. It is a great way to build a financial relationship and, in the end, strengthen your trust with your partner.
Pros
      

Fast acting customer care who you can reach in case you have any difficulty

      

The design is simple, making it easy to use

      

Your details are encrypted, giving the app added security features
Cons
      

No custom categories to see your expenditure; this would have helped to know where you spend your money most.
Availability: iOS, Android
Price: free
Over to you
Mobile technology has taken over most of our lives' routines, as more and more sectors embrace this new norm. Financial management apps of 2019 have not only made things easier but also more secure and convenient.