How to accept Ethereum payments 2020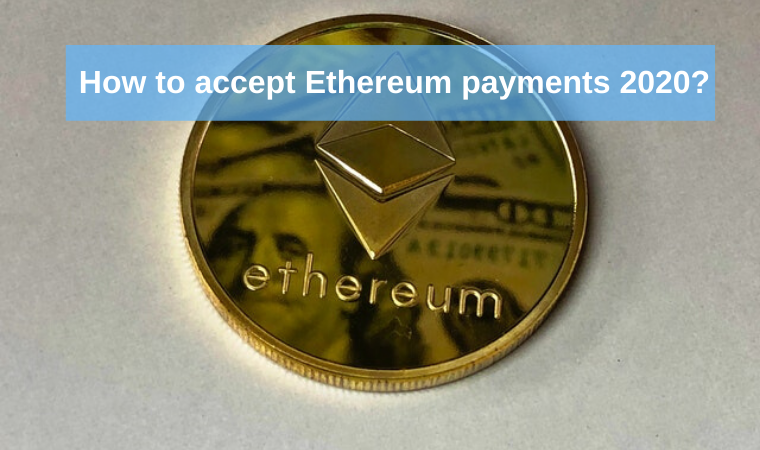 Ethereum is one of the most successful altcoins to date. And with the development of network technologies, the use of this currency is expected to grow exponentially.
Unlike Bitcoin, Ethereum is developing very rapidly and is growing dynamically in price. To process Bitcoin transactions, it usually takes up to 10 minutes, while when working with Ethereum, the speed is higher.
It's no secret that Bitcoin exchange rate fluctuations affect its use. While many traders still use this currency for their transactions, some switch to Ethereum.
Ethereum makes use of numerous verticals and has been implemented in many companies:
QHoster – international web hosting buying service that accepts Ethereum as a form of payments.

Laptop Power Bank – online store of chargers/power banks for laptops.

Cryptoart – an online service to buy a handmade art with Ethereum.

Bitgild – an online store to buy silver-made stuff.

1000 EcoFarms – eco-friendly produce right from the farm. The company also accepts Ethereum payments.
The list of such companies is much longer, and it is continuously expanding. Accepting such popular types of cryptocurrencies as Ethereum will be a great advantage for businesses. It will attract the attention of potential buyers and increase the popularity and recognition of your brand. Besides, cryptocurrency payments are much safer than traditional ones. With Ethereum, it's much easier to process payments.
So, the question is how to start accepting these altcoin payments on your site?
How to start accepting Ethereum on the site
As a business owner, you do not need to develop payment tools or buy special software.
In just one moment we will introduce you to the most widely known methods of accepting payment of Ethereum on the site.
Ethereum payment gateway
Ethereum's market capitalization is in second place and almost double that of its closest competitor. This position emphasizes the importance of Ethereum in the field of online payments and business in general and shows the growing demand for cryptocurrency payments.
Companies that want to accept Ethereum payments can do this quite easily by integrating the Ethereum payment gateway, which will allow them to accept Ethereum transactions. Since the number of intermediaries is reduced with this model, transaction costs are lower, which, along with other advantages, makes this payment method a reasonable business decision.
Accept Ethereum payments with WordPress plugins
WooCommerce is one of the most commonly used modules for online stores. It also has built-in payment functionality, including Ethereum.
If you want a separate plugin for Ethereum for your store, then you can try, for example, Ether.
This plugin, in addition to standard payment functions, allows merchants to:
Automatically converts the order value to Ethereum.

The ability to add a percentage premium to the converted price.

The ability to add the "Pay with Metamask" button for Metamask Chrome users.
Ethereum API
Using Ethereum API, you can integrate and accept payments on your website without third-party plugins. It means that customers will not be redirected to external resources, and payment processing will occur on the side of the merchant.
This feature is also suitable for mobile payments.
In any case, accepting Ethereum payments on the site will be the best business decision that will set you apart, since there is a possibility that competitors do not have this service. Integration of payments also does not cause difficulties, since installation methods become easier and more transparent.
Advantages of accepting Ethereum payments
Transaction fees
Ethereum, like most cryptocurrencies, significantly reduces transaction costs when working with clients. It allows merchants to store more at a lower price.
Transaction rate
Ethereum payments are some of the fastest payment methods in the world. Transaction processing takes several minutes, which is much quicker than most methods.
Business expansion
The globalization of business is an essential step in development. As practice shows, the more the company provides payment solutions, the faster it develops. By purchasing goods using Ethereum, customers will not worry about the currency conversion fee.
Minimization of risks
When making Ethereum payments, users do not enter personal data or account information. Customers will feel more secure when they have the opportunity to buy from you without unnecessary risks and, at the same time, enjoy the benefits of anonymity. Besides, chargebacks are also no longer afraid of you.
The bottom line
In general, Bitcoin can be called the first successful cryptocurrency. Cryptocurrencies, or money substitutes, are likely to enter the lives of the future and even present generations firmly. But for this, it will be necessary to solve many technological, legal, and economic issues.
PaySpacelv allows payments in more than 80 currencies, including crypto. The main advantages of the company include fast connection, reliable data security, the ability to make payments to the card of any bank in the world, monitoring transactions in real-time.
In addition, the company provides technical support in chargeback disputes and has up to 90% of cases won in the merchant's favor.
You can start working with PaySpacelv by filling out an application form on the site. Our managers will contact you shortly in the most convenient way.