How to get an adult merchant account?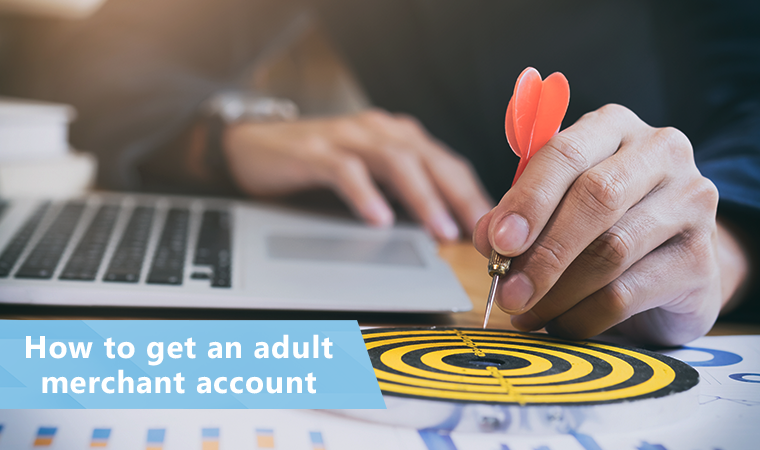 It's impossible to believe that businesses today can operate without credit card processing. However, businesses in the adult industry often run into this type of problems. Can you imagine it?
In most cases, banks and mainstream financial institutions consider such businesses high-risk for a number of reasons. First, they are closely associated with fraud and chargebacks – that's why they are subject to government scrutiny and various regulations. Second, high-risk businesses often have a doubtful reputation. For this reason, mainstream financial institutions never want to deal with them.
So, if you run an adult industry business, you may have a tough time with payment processing. Therefore, it's critical for you to find a merchant service provider, capable of handling high-risk accounts. With a sound understanding of your business industry, high-risk payment provider can prove to be a best-fitting credit card processing solution.
Let's figure out how to get a merchant account for adult business.
What industries are deemed high-risk?
Adult business is not the only type of business that is considered high-risk. On the list below, you can find some additional members of this crew. Take notice, they are called high-risk not because they are unprofitable. Instead, they are deemed so due to a close connection with fraud, refunds, and chargebacks.
High-risk industries include the following:  
Gambling & casinos
Dating
Adult content and related products and services
Travel, booking, and tickets
FOREX
Vaping and e-cigarettes
Payday loans
Investment schemes
Digital downloads
Wellness and health supplement products
Money transfer
Investment schemes
Web hosting and ISP
Replicas
Software and downloads
Massage parlors
Phone locking services
How to get a merchant account for your business?
First things first – work on your credit rating! This is what can help to get an adult merchant account. Remove anything that hinders your credit reputation from the report (if possible). Pay all liens and late payments, making sure your debt issues are far behind. Contact one of the top three reporting agencies (Experian, Trans Union, and Equifax) and have them understand that you have made these payments. If everything is alright, they will remove you from the report.
Offer an explanation for past merchants that were closed
If you have had previous merchant accounts closed, or you have faced any bankruptcy proceedings in the past, you have a zero chance to succeed. These issues may disqualify you automatically.
However, if you have a good explanation for them, you might just be lucky. If you are currently being charged a higher rate because of these factors, your merchant account provider is likely to drop your rates and fees. Prove that you are a good deal!
Get ready for higher fees and offer things your competitor don't
While business owners will most likely get better rates compared to what you get, your revenue stream is likely to be boosted as well. If you provide easy, non-cash payment methods, chances to encourage impulse buying increase.
In high-risk merchant services, the only way you to do business successfully is to pay higher. So do not shy away from this thought. In the long run, it will definitely pay off.
Have extra cash to establish a reserve account
Most credit card processing companies that work with adult websites will require you to set a certain fraction of your sales aside. In lay terms, it means opening a different account which the processor can access if any losses happen in the future.
Opening this account shows the merchant that you take your business seriously. Thus, you are not a high risk.
Gather the necessary documents
Before you get approved for credit card processing for adult video sites, it's critical to get certain documents ready. Must-have papers are listed right below:
Articles of incorporation
Application
Business license
Business utility bill
Valid government-issued photo ID
Voided check for your business bank account
6 most recent processing statements that you have with your latest provider of merchant account services
Business owner resume
Three latest business bank statements
If you get approved quickly, you get a higher chance of bringing in more revenues, making payments on time, and building up your business as a low-risk venture. The more creditworthy you are, the faster your interest rates and fees drop.
Additional factors to consider
When it comes to how to create a merchant account, there are also certain factors to consider. These include the following:
Do they work with other merchants in adult business? It's recommended to choose a provider who works with merchants in adults business. Such providers are able to detect fraud in advance, as they know what typical transactions look like.
Availability of customer service line. Working with high-risk industries means that sometimes, problems are just unavoidable. When that happens, make sure you have a number to call for help.
Monthly fee structure. Probably, this is the most important thing to consider. Certain high-risk merchant providers may offer low monthly fees but charge high discount rates and vice versa. Don't get caught up in numbers.
Choose a flexible merchant account provider to save money and hassle. Although not so many processors work with adult-related merchant accounts, it doesn't mean you are out of choices. As matter of fact, there are still enough choices for you to be picky. Never settle for the first offer.
Does your business use an ongoing credit card or monthly charges? Most adult services memberships operate in this way. Other services require one-time yearly payments or single purchases. Whichever way you choose to set your account, you need to pick a pre-screened processor. Make sure it offers the right adult merchant accounts that meet your specific business needs.
Though it may be challenging, you can actually learn how to get a porn merchant account and open yours. Luckily, there are merchant account providers who specialize solely in high-risk industries.