How to integrate a payment gateway in Shopify store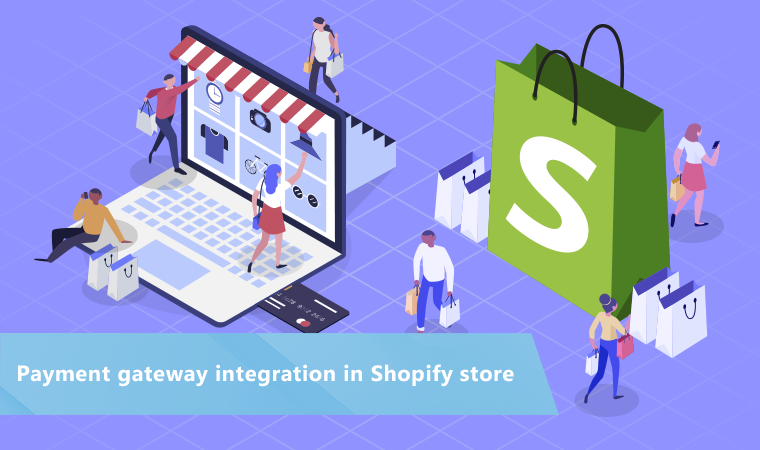 There are many different ways to build your own online store, and one of them is to choose Shopify platform. It is easy to use, has plenty of different marketing tools, and can be a good choice for various merchants, from new businesses to those aiming at a significant expansion.
However, designing your site and throwing product images and descriptions together is not all you need to get started with accepting online payments even if your clients are ready to purchase. You should think through all the payment processes that would keep all the parties happy with the transaction speed, user experience, and security.
In this article, we'll look into ways to enable your clients to make payments. Check out our detailed guide on what to do in order to integrate a payment gateway in Shopify.
What is Shopify?
It is an e-commerce platform that allows to established and develop an online business, to launch it and grow. This comprehensive solution has virtually everything payment providers expect from a website builder.
The platform allows you to:
        

Create and customize your store;

        

Sell your products/services in different ways, including websites, social media, mobile apps, and more;

        

Manage your products, payments, items, and shipping.
Since it is a cloud-based platform, you do not have to worry about upgrading/maintaining servers or software. Besides, you can access it from any place on different devices that have an internet connection. It is possible to use your own domain name with this service provider.
Now, let's take a closer look at what a payment gateway is and why you need it.
What is a payment gateway?
A payment gateway is an interface between an order form on an e-commerce site and a merchant's acquiring bank. It enables transaction data transfer. Therefore, it is an essential service enabling a merchant to get payments online. This solution may be provided by your acquiring bank, but there are also a wide number of third-party providers whose assistance you can use. It is impossible to enable online payments without it, so you must have it. There's no way around it.
There is a range of things to consider when choosing a service provider:
        

Fees;

        

Customer experience;

        

Security;

        

Domestic/international payments;

        

Currencies and others.  
You can choose the best payment service provider by comparing the terms and conditions of different companies. It is great that with this platform, a merchant can activate several payment options and offer a wider choice of payments to your customers.
The platform has its own integrated payment gateway. However, there are also more than 100 other reliable payment providers from all over the world that might offer better conditions.
How to integrate a payment gateway in Shopify
Since Shopify platform offers a wide selection of payment gateways to select from, we will take a look at each one of them.
Shopify Payments
Let's say that you want to launch Shopify Payments. You can easily do this from your dashboard after registering with this service.
To activate Shopify Payments:
        

Go to Settings and then to Payment providers;

         

Click on "Accept payments", then select "Add a Provider";

        

Enable this option and click "Continue";

        

Press "Complete Account Setup";

        

You will be taken to an online form you need to fill out with the relevant information;

        

Once everything is done, just press Complete Account Setup.
Shopify Payments advantages
Here are a few Shopify Payments advantages:
        

Different pricing plans to choose from starting at 2.9%+30c per transaction;

        

No hidden charges;

        

Fraud detection and protection as well as risk analysis tools;

        

Easy management of orders, payments, and expenses.
Third-party providers
Since the company is a partner to many international payment providers, you will find it easy to choose something that matches your requirements the most. Therefore, feel free to choose a payment processor based on your preferences, geo, target audience, and budget.
You can integrate a payment gateway by a third-party payment provider in an easy way from your admin dashboard. For it:
        

Go to "Settings" and choose "Payment Providers";

        

Click on "Add a Provider";

        

In the "Change provider" drop-down list, select "Third-Party Credit Card Provider";

        

You will find the list of providers available in different countries;

        

You will be taken to an online form that you need to fill out with relevant information;

        

Press "Activate."
Alternatively, you can work with a payment processor not on our list. Just find the one that meets your needs and get a consult on whether they support the Shopify platform.
From the moment you integrate a payment gateway into your website, your clients can start making payments on your site. And that's when the real game begins!
Conclusion
Many online merchants (500,000 to be exact) believe that Shopify is the best fit for their online business. Not only does this platform have everything they need to build a great online store, but it is also very easy to use in terms of enabling different payment gateways. Basically, the entire process can be completed with several clicks (however, in case of a third-party payment gateway the process might take longer). That's how simple it is. Just follow our advice – and get the ball rolling with your online store!