How to open a bad credit merchant account?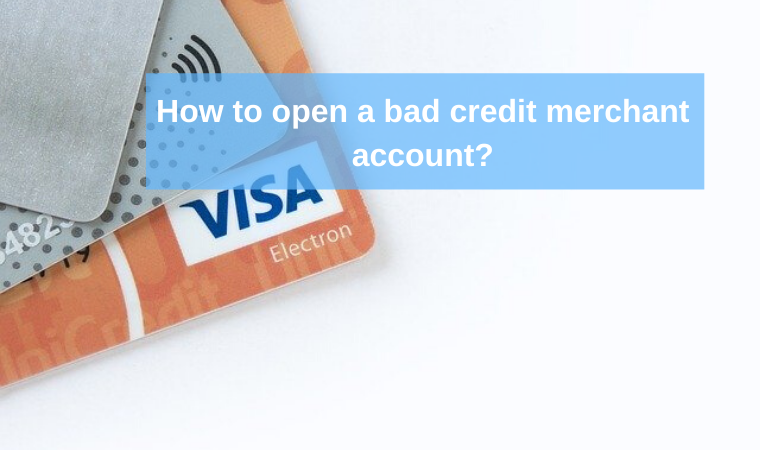 Opening a merchant account is vital to establishing a business. Even if you own a small business and you want to accept credit card payments, you also need a merchant account.
To receive this invoice, you will need to provide certain documents to the payment service provider.
These may include information about the owners, credit history, type of business, etc.
For most payment providers, good credit history is an important parameter. Thus, you confirm that you are the rightful owner and not a scammer.
Of course, getting a merchant account with a bad credit history will be more difficult, but still not impossible.
This is due to the fact that many payment providers are reluctant to accept business owners with poor credit history because they regard such applications as potentially fraudulent or with a high rate of chargebacks.
Today we'll take a closer look at how you can get a merchant account with bad credit.
How does credit score affect payment processing?
Any business, even the most successful, can cease to be so if the client feels unsatisfied. Buyers will return the goods and this will negatively appear on the credit history.
In addition, opening a merchant account requires an application, and too frequent refusals also negatively affect your credit history.
Consider the most common causes of a merchant's bad credits:
Too many chargebacks (Visa allows no more than 3% chargebacks of all transactions per month).
Too many complaints from customers regarding the conductivity of payments, controversial issues regarding payment.
Fraud, both from the client and from the merchant. Friendly fraud.
Closing the previous merchant account (MATCH lists).
Debts that remained from the previous enterprise.
No credit history(startups) or poor credit history.
Issues with tax withholding.
Depending on the type of structure of the legal entity, when applying for a merchant account, the acquiring bank considers the credit history of either the business owner, or his company, or both.
It should be noted that the most serious problem that can get in your way is bankruptcy. Because of this, it may take years before it will be possible to restore the credit history.
How to open a bad credit merchant account?
Any underwriter must assess the potential risks that a merchant may cause to the bank. But the same check is performed by payment providers and acquirers.
Of course, for any entrepreneur I would like to have a good credit history. However, it is always better to provide complete and truthful information. This will allow providers to find a solution that will suit your business model and avoid unnecessary problems.
Let's take a look at some tactics that can help when applying for bad credit:
Do not leave overdue payments.
Your payment provider has the ability to cope with chargebacks and their number does not exceed 2%.
In order for the bank to identify you as a solvent, you should have a certain amount of money in your bank account.
If there are several business owners, an application should be given to someone who has the best credit history and financial situation.
The company has customer support specialists.
The site must have Terms and Conditions and Privacy Policy.
List of documents that you must have when applying for a bad credit merchant account:
Valid identity document (ID card, rights).
Merchant Identification Number.
Bank statement for the last 6 months. Most processors will not consider certain high-risk industries if they do not have transaction processing experience.
Personal financial statements for two years
This list may vary depending on the type of business, country, and other factors.
How much does bad credit merchant account cost?
High-risk companies will always pay more than low-risk ones.
This way banks try to minimize potential losses from chargebacks or fraudulent schemes.
When your application is approved, you may encounter a number of additional fees:
Higher transaction fees. The price can range from 5% to 12% and this is considered the norm.
A longer time of receipt of funds. Payments can come within a week, instead of the traditional three days, as they require additional verification.
Transaction volume limit. A ban on exceeding a certain transaction amount at a time. In any case, until you prove that you can be trusted.
Sometimes processors charge a fixed monthly fee for servicing a payment gateway. And for high-risk merchants, such a price can be twice as high.
Higher rolling reserve. This term means the deduction by the bank or provider of a certain amount of money as insurance against fraud. It can reach 15% or more.
More stringent monitoring.
Why PaySpacelv?
Payment systems that work with merchants with a bad credit history take responsibility for the increased risks, which means they must have all the necessary resources to provide quality services.
PaySpacelv has over 15 years of experience working with merchants of various types and provides global payment solutions for more than 170 countries.
If you want to apply for a bad credit merchant account or have any questions – fill in our merchant form and we will get in touch with you shortly.