What documents do you need to open an adult dating company merchant account?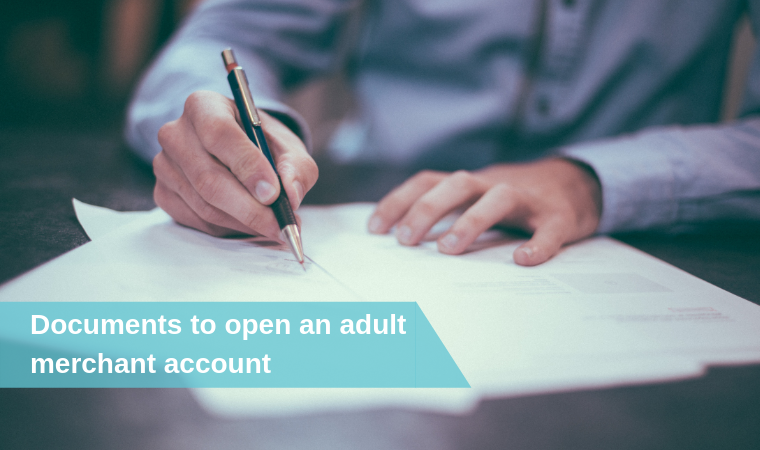 You have found a perfect payment service provider. Still, you need to prepare documents to receive approval by the bank to start accepting credit cards. The next step is opening an adult merchant account. In this article, we share a scrupulous guide on which documents you need to prepare and why.
From 2010 to 2015 dating companies (which are the part of an adult industry) received $150 million of investments, according to Toptal. Moreover, DatingNews reports that dating business's revenue grew by 5% during the same period. So the industry continues to upsurge. We don't want you to stop one step away from opening a merchant account for adult business and accepting payments from clients.
Surely enough, a correctly compiled list of legal documents is your key to success and fast onboarding. In this article, we are giving away five backbone documents you need to arrange. So, enough talking, let's jump straight to the list.
Five essential documents you need to provide to open a merchant account for adult dating website
1. Certificate of incorporation
This document relates to the company or corporation formation. Commonly, state governmental entity or corporation issues a certificate. The information in the certificate of incorporation varies from country to country, but may include:
Type of the corporation

– management, professional, insurance, cooperative, etc.

Name of the corporation

– here you state your company's name with endings as Company, Corporation, Incorporated.

Legal address –

includes the country/state of the office's registration.
Besides, business owners should keep in mind that the length of the procedure may differ drastically based on the country. Getting the certificate of incorporation in some European countries may take three days while others may require up to two months.
Why do you need to include the certificate of incorporation?
First, it proves that your company is a legal entity. However, what's more important, you need it to open a bank account. It is the only way to start receiving the income generated from the services your company is offering.
2. Certificate of Incumbency (or similar document)
Not to be in the maze, you need to know that Certificate of Incumbency has alternative names as Register of Directors, Officer Certificate, or Secretary Certificate. Now let's move to its definition.
Certificate of Incumbency is a document that holds information about the incumbent individuals with their positions within the company. Simply put, it is the list with directors, officers, and main stakeholders names. The corporate secretary or local register is responsible for the certificate issue.
Why do you need to include the Certificate of Incumbency?  
You have to include it to identify the key people within your company because they are most likely to sign agreements on behalf of the company.
3. Copies of valid passports with visible bearers signatures for all company officers and owners
This stage stands for sharing copies of the passports of all company officers. Usually, the company shares copies of officers' international passports because they have the owner's signature on the main page. Note that every officer must sign a copy of one's passport to assure its accuracy.
Why do you need to include copies of valid passports with visible bearers signatures?
You need to provide these copies to show that the company's owner (director) is a real person. That is a crucial requirement because a bank, as well as a payment service provider, needs to ensure that the company doesn't work via a straw person.
4. Application
Providing a filled merchant application form is a necessary step since it helps to understand the company's structure, turnover, target markets, as well as the merchant's needs. 
Why do you need to include the application?
PaySpacelv examines your application thoroughly and offers the best possible processing solutions based on it. Clear and full application form helps you onboard faster.
5. Most recent processing statements (six months) that you have with your latest provider of merchant account services
Since European banks require to provide a payment processing history, PaySpacelv recommends submitting the processing statements from the last six months.
Why do you need to include the processing statements?
PSPs qualify adult companies (online dating, adult dating, etc.) as high-risk ones. Similarly, do the banks. At the same time, online dating companies can proceed without processing history, while adult dating company representatives lower their onboarding chances without the statements.
Conclusions
In this article, we have shared five documents you need to provide to open a merchant account for adult dating company. They are a solid base that actuates and fastens the onboarding procedure, especially for a high-risk merchant account. Nevertheless, we want to emphasize that the bank may request to share more documents.
At the same time, the list of the documents that we have described is a must for PaySpacelv. Let the time for merchant account providers to verify the documents and get ready to accept payments!
We want to hear from you. Finally, we've got several questions to you. What difficulties did you have while preparing the list of documents? Alternatively, you might want to learn more insights. Comment below and let's start a conversation.