PayPal alternatives for high-risk businesses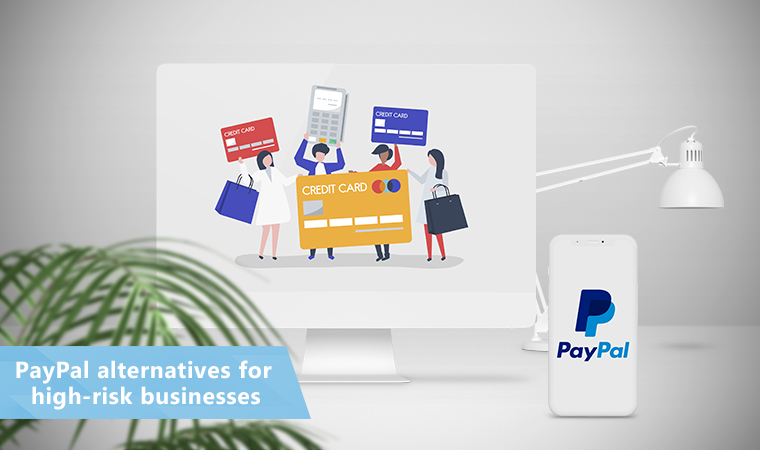 PayPal is one of the biggest and the most popular payment providers. The number of businesses applying for a PayPal merchant account is growing in leaps and bounds. Statista surveys show that in the third quarter of 2018, PayPal had 254 million active accounts around the world compared to 84,3 million in the first quarter of 2010 with more people using this service rather than other PayPal alternatives.
Lots of merchants choose PayPal as the only payment solution for business, and this is the root of their troubles. One of the reasons, in particular, why PayPal has such a brilliant reputation is that it works mostly with low-risk businesses. They really are playing it safe not willing to take on risks associated with high-risk merchants.
So what should high-risk businesses do under such circumstances? And where can they find alternatives to PayPal? Let's figure out the success formula for high-risk merchants and find out why it is better to use PayPal only for low-risk businesses.
What are the advantages of using PayPal for low-risk merchants?
Choosing a payment provider for your business could be a rather daunting task but low-risk merchants are on the winning ticket undoubtedly. They can benefit from the collaboration with one of the leading payment processors in the following ways:
free of charge merchant account opening;

all the financial information including bills and transaction reports is secure and well-organized for merchant's further personal use;

PayPal online fees are lower compared to a bunch of other companies;

easy integration with the majority of the shopping carts;

reasonable prices for merchants
Unfortunately, only low-risk businesses can draw full benefit from the features. This makes high-risk merchants get on the search for services like PayPal.
What are the disadvantages of using PayPal for high-risk businesses?
If a company works in an industry often associated with chargebacks, it automatically falls into the category of high-risk businesses. There are some industries that have a particularly close connection with fraud, refunds, and chargebacks:
Nutraceuticals

FOREX

Cryptocurrency

Dating

Skill games

Retail

Gambling

Legal services

Software and program development

Vaping and e-cigarettes, etc.
If you have found your business on the list, it doesn't mean that you can't opt for PayPal. But be ready that this provider won't be an option for processing payments in the long run because of strict regulations regarding high-risk merchants:
PayPal doesn't reject high-risk merchants from the start thus giving them hope for cooperation;

If PayPal finds that you have a lot of chargebacks or clients' complaints, your account can be frozen or terminated without warning;

If in the view of PayPal, you break the conditions of service, they may limit the sum of money you can operate with.
So what can merchants that fall into high-risk category do? Look for an alternative to the PayPal processor that focuses on high-risk businesses.
Signs your business would benefit from a high-risk merchant account provider
If your business is considered high-risk, you should automatically narrow down the search for a payment processor. And in the long run, it even makes your life easier. Don't look for PayPal alternatives among processors that work primarily with low-risk merchants. Google "high-risk merchant account providers" without any hesitation, find a range of options, go through their services and make a decision.
You will find both cheaper and more expensive PayPal alternatives. It depends on whether you need a reliable solution for a small business, startup, non-profit organization, for local or international payments, etc. It is also essential to check if the most relevant, in your opinion, payment provider has already worked with your type of business before. By adhering to these search criteria you'll get rid of the fear that your account can be blocked anytime and minimize the consequences of chargebacks.
Let's explore the benefits of collaboration with high-risk merchant account processor.
Benefits of choosing a high-risk merchant account provider
Seamless merchant account opening.

A reputable high-risk merchant account processor is your lifeline in the ocean of financial institutions unwilling to work with merchants that have a chargeback history. With the support of such a provider, you automatically get the assistance of an expert that knows the ins and outs of the niche. At the same time, thanks to a large number of successfully implemented projects this processor will ensure the competitiveness and longevity of your business.

Increased security standards.

Regardless of the business type, a reliable processor should offer its clients the highest level of security of their customers' data. So, the integration of PCI DSS compliant payment gateway into the website is a must for the successful running of your business. High-risk processors normally provide merchant accounts with an elevated detection in the transaction stage. This enables fraud protection for all the parties: merchant, provider, and the card owner.

Expanded sales geography.

Working without an open digital merchant account means limiting yourself to a local market whilst having an account is a way to draw attention among prospective consumers from all around the globe. Getting a high-risk merchant account is not as complicated as it sounds, besides, a payment provider is here to make the process seamless and, as a result, to expand the horizons for your business.

Final thoughts
PayPal is one of the most powerful payment providers in the world but it works mostly with low-risk businesses. High-risk merchants aren't forbidden to use PayPal services but this decision will probably require financial terms and swayed reputation. So what can you do as a high-risk merchant?
Take a deep breath and relax: there are lots of sites like PayPal that make a great alternative to it;

Look for an alternative to PayPal processor that focuses on high-risk businesses;

Choose the most relevant solution and fine-tune it to your needs;

Reap the benefit from the increased security, cutting-edge chargeback prevention, and, as a result, an ability to expand into new markets.
Now seems like a good time to mention one of such PayPal alternatives that not only offers excellent payment processing mechanisms but also helps you cut the expenses with lower rates. Sounds interesting? That's what we at PaySpace offer you today. Just drop us a line to get started!