Top 8 mobile payment apps merchants should know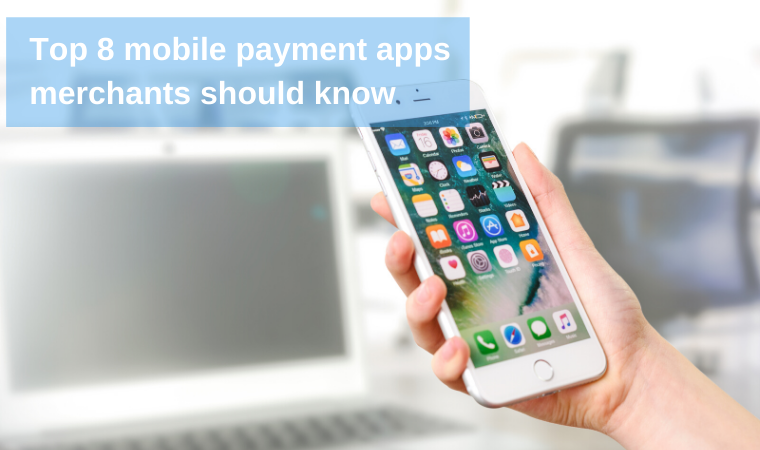 How could merchants possibly benefit from mobile payment apps? Well, to be more precise, from enabling mobile payments on their websites. First, and the main thing that comes to mind is customer retention.
You can grow customer loyalty and even attract more new customers without spending a huge amount of money on ads and marketing. Letting customers pay using their smartphones can be the key.
That's why, in this article, we are going to share the top eight mobile payment apps merchants should know about. Moreover, we will provide some statistics on mobile and in-app payments to prove our idea.
Top eight mobile payment apps
1. WeChat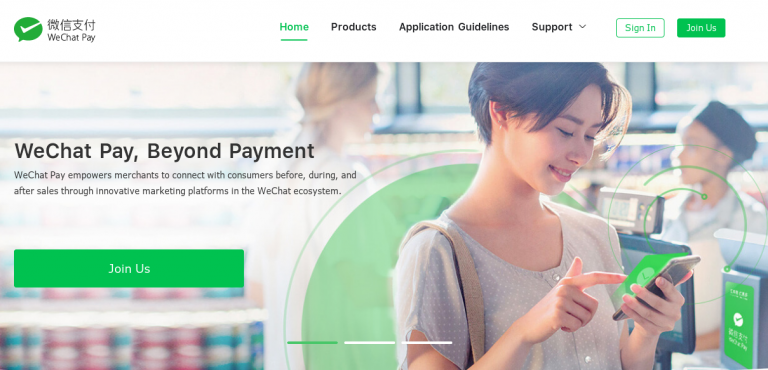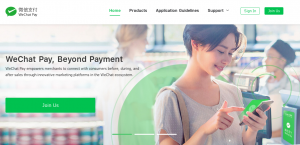 Meet a technical giant – WeChat. It is a product of Chinese holding Tencent that specializes in Internet services. WeChat started as Tencent's research project and soon became the most popular app in China.
Users describe it as a "whole shooting match app." But we are going to concentrate on WeChat's payment feature.
To use WeChat for payments, customers need to provide their bank account data. So far, this app works with bank accounts and also JCB, Mastercard, and Visa. There are three features of WeChat Pay that interest us the most.
Account payments. To enjoy this feature, a merchant has to open an official account and switch on the payment option. As the merchant completes the account, users are free to pay. Moreover, business owners can promote their goods or services within the environment.
In-app payments. We recommend this feature if you target or work within China (plus Hong Kong). After you integrate this payment option into your app, shoppers can pay using WeChat. It's fast, convenient, and easy, so make sure to provide it.
Web payments. When it comes to web shopping, the merchant can use WeChat QR code and let users scan it. Shoppers open WeChat Pay payment app, scan the code, and enjoy an instant purchase opportunity.
WeChat Pay has over 600 million users, so you, as a merchant, better not ignore this application. Stores like Toys R Us, Jollibees, Caesars Hotels & Resorts, Grace Han benefit providing this mobile payment method.
Year. 2011
Region. Worldwide (main emphasis on China and Hong Kong)
A number of users. 600 million
Platform. iOS and Android
Parent company. Tencent
2. Alipay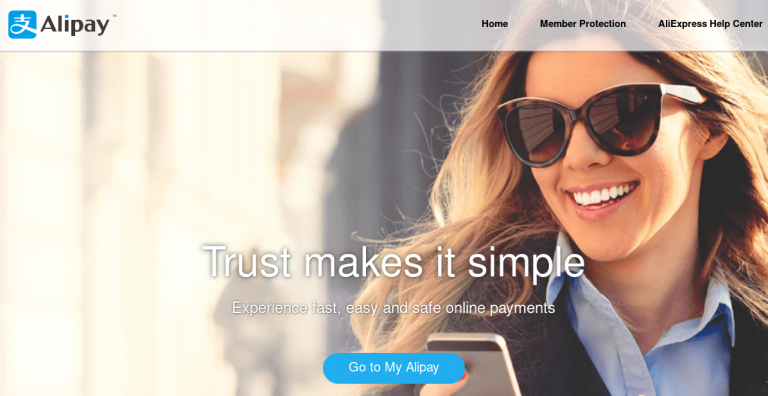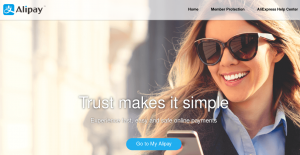 The next technology phenomenon is Alipay. It is the main WeChat Pay competitor and Alibaba's brainchild. Taobao (a part of Alibaba) first launched the app in 2003. But it fully formed in 2004 and became the second most popular payment solution in China.
As TMall and Taobao are Alibaba's affiliated companies, Alipay is their main checkout option. But what about other merchants?
Well, Alipay works with 65 financial institutions. Besides, this payment application supports Mastercard and Visa. How can merchants get the most value of Alipay?
Web payments. Customers use Alipay by attaching their payment cards. During the checking out, they only need to pick Alipay and then the correct card. Merchant on the checkout page will display the Alipay option to notify the shoppers. Another option is a QR code users may scan.
In-app payments. A merchant can enable Alipay mobile app payments within application versions of stores. Customers choose Alipay as a payment option, Alipay opens, and shoppers pay for goods and services.
Alipay has 400 million active users. This mobile payment service is global compared to WeChat Pay. It enlarged its presence in North America, Australia, Europe, and other continents. Stores like Taobao, SmartTicket.cn, Metuan, and more websites support Alipay.
Year. 2004
Region. Worldwide
A number of users. 400 million
Platform. iOS and Android
Parent company. Ant Financial
3. PayPal App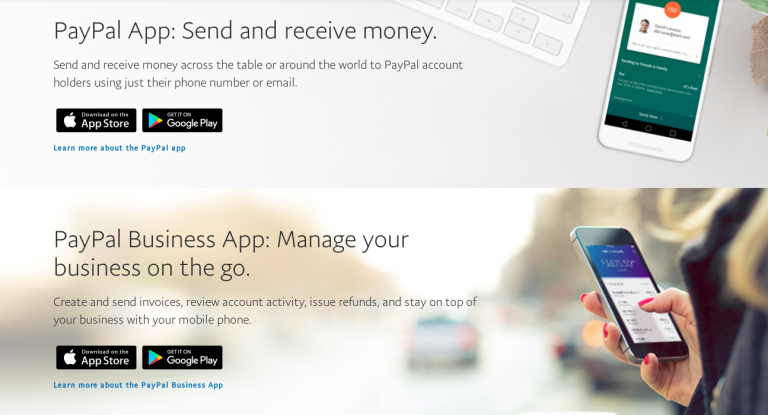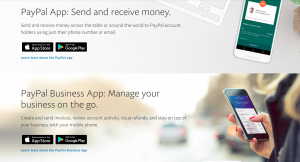 Here comes PayPal, probably the oldest online financial service. Its history started in 1998 from the company named Confinity. Of course, PayPal owns plenty of companies, but our goal is to get a more in-depth look at its mobile application.
Almost a decade ago, in 2011, PayPal reported that mobile payments during Black Friday were 538% higher compared to 2010. So, how to get the most of the app?
To use PayPal for online payments, users need to open an account and attach a card. After this, they can enjoy different kinds of online payments.
Web payments. Users can pay with PayPal mobile payment app on the participating websites. A merchant needs to use the PayPal Checkout option or a new feature called Smart Button. It enables one-touch payments.
In-app payments. The procedure goes pretty much the same. The user initiates the purchase in the store's application. Thanks to the Smart Button, payments for users are only one tap away.
There are 210 million PayPal users worldwide. Taking into account PayPal's awareness, this is a checkout option to consider. So, famous brands like Adidas, Disney Store, ASOS, and others provide this payment method.
Year. 1998
Region. Worldwide
A number of users. 210 million
Platform. iOS and Android
Parent company. PayPal
4. Apple Pay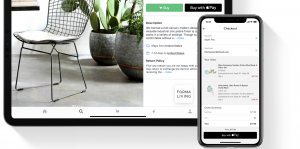 Get to know a payment service by Apple. Though this is a global payment app, Apple still has made it its own way. So, this mobile payment app is available for iOS-based devices only. Anyway, the acceptance of this payment method is impressive. Apple Pay becomes available for more and more countries each year.
Apple continues to use the technologies with full power. One-click on the "Buy with Apple Pay" in the store's app, that's all, shoppers need to do. Besides, customers can confirm the purchase on Mac with Touch ID.
Apple Pay works as a wallet, so users are free to add their favorite payment cards. For instance, users from Germany can connect Volksbank cards or Erste Bank cards in Austria. Customers can even add cards even from online-only banks like Revolut. Nevertheless, how customers can pay?
Web payments. You, as a merchant, need to enable Apple Pay payments and highlight it with a special button. Customers can shop from any iOS-based device (iPhone, Mac, etc.). Apple recommends using Safari as a browser.
In-app payments. As shoppers use the store's application, they need to choose the "Buy with Apple Pay" option. One-click only, and the customer can pay for any product or service.
So far, 87 million shoppers use Apple Pay. Assuming Apple's popularity across North America and Europe, adding this payment option on your website is a smart move. Stores like Target, The North Face, Wayfair, and more are supporting this solution.
Year. 2014
Region. Worldwide
A number of users. 87 million
Platform. iOS
Parent company. Apple
5. Samsung Pay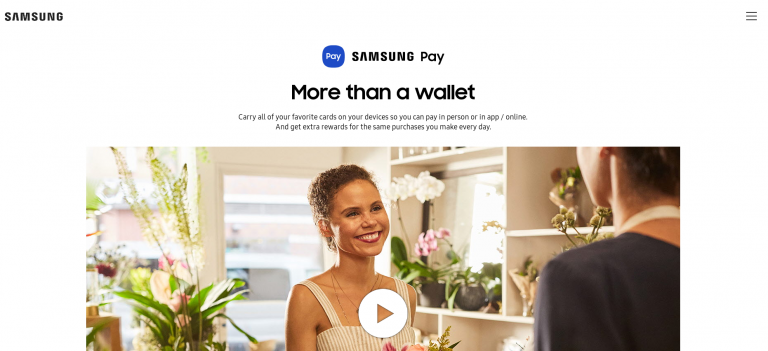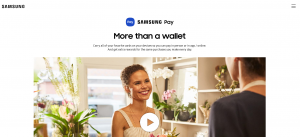 Samsung Pay is, predictably, a Samsung child. The first two countries to adopt this kind of payment were South Korea and the United States. Still, like Apple Pay, Samsung Pay is exclusive for Samsung owners.
The payment app itself is a LoopPay creation. After Samsung acquired it in 2015, this gadgets' producer received its own payment solution.
To shop, users need to download the mobile payment app and connect the payment cards they use. As of 2018, users from 29 countries can enjoy this payment option. Participating banks vary from Citi to Bank of America or Chase. How can customers exactly pay?
Web payments. When customers check out and select a payment method, provide Samsung Pay as an option. When shoppers choose it, they eliminate filling in the credit card data.
In-app payments. The same principle works for in-app payments on shoppers' favorite store apps. Moreover, customers can confirm the payment using a fingerprint or PIN.
There are 34 million customers who use Samsung Pay. Besides, Samsung has a "spin-off" version called Samsung Pay Mini for online payments only. This payment option is available in India. Merchants like Loewe, Hotels.com, and others enable Samsung Pay feature.
Year. 2015
Region. Worldwide
A number of users. 34 million
Platform. Android
Parent company. Samsung
6. Venmo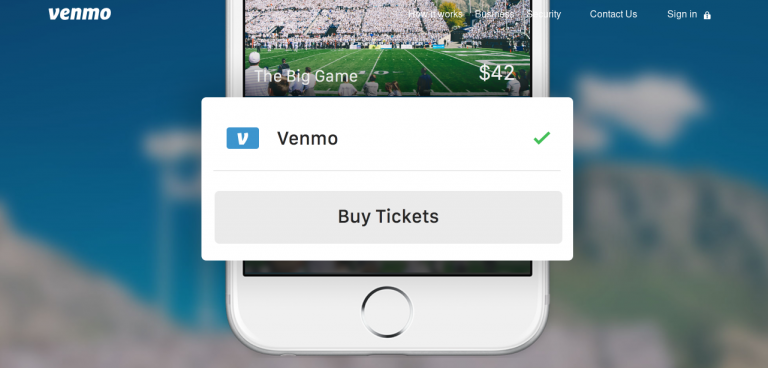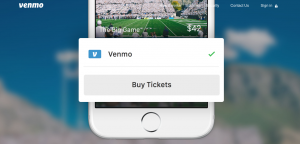 Here comes PayPal's acquisition – Venmo. PayPal purchased Venmo, initially a money transfer service, in 2013. After a series of improvements, Venmo has shaped itself to get its final view and set of features.
Of course, a split billing option helps Venmo to stand out. And we are not talking about it as a separate feature. It comes as a worthy addition to the mobile payment itself.
Users can create a Venmo account on the web or using a mobile payment app. The main thing is attaching a bank card to the account to enable in-app payments. How does the payment process go?
Web payments. The trick here is that customers can checkout through two options – PayPal and Venmo. Users only need to choose the checkout option. Remember we've mentioned split payments? Well, after customers pick Venmo to pay, s/he can divide the bill between the fellow Venmo friends.
In-app payments. The shopping process for customers is easy and fast. They should only pick Venmo as a payment option and checkout. Various apps, from food to booking or clothing, can support Venmo.
Currently, there are 40 million Venmo users. Of course, the primary target market for merchants is the United States. Shoppers can pay with Venmo on eGifter, Footlocker, and more stores.
Year. 2019
Region. Worldwide
A number of users. 40 million
Platform. Android and iOS
Parent company. PayPal
7. Google Pay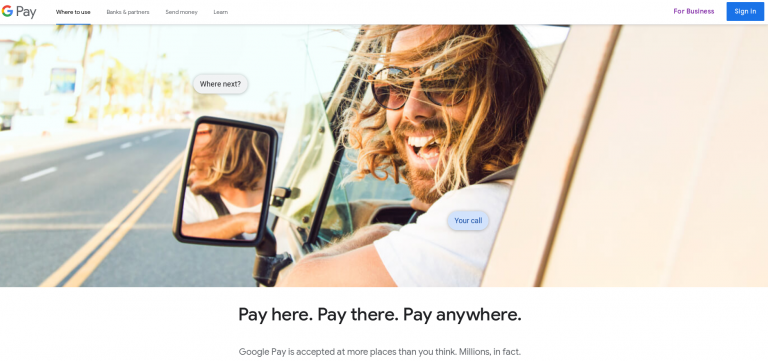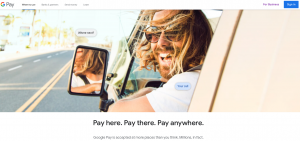 Shoppers used to know this payment system as Android Pay. At the very beginning of 2018, Google Wallet and Android Pay collided together to create Google Pay or GPay. The main feature of this mobile application that interests us is the payment one.
Unlike Samsung Pay and Apple Pay, GPay is available for all Android phones, despite their brand.
To enjoy the application, users need to download it and connect a payment card. There are two ways customers can add their cards. The first option is via typing the card number manually or by taking the picture. How do customers pay?
Web payments. Customer shops in the web-store on the smartphone. After adding a product to the cart, the user picks to pay with GPay. There won't be any need to fill in the card data as Google account already has it.
In-app payments. To pay in the application, a customer needs to pick his favorite store or service. To shop in-app, a user needs to choose GPay as a primary payment method.
There are 24 million Google Pay users. It covers all continents except Africa. So, merchants can make good use of this payment option. Such stores and services provide this payment method: Airbnb, Kayak, Starbucks, and others.
Year. 2015
Region. Worldwide
A number of users. 24 million
Platform. Android
Parent company. Google
8. Skrill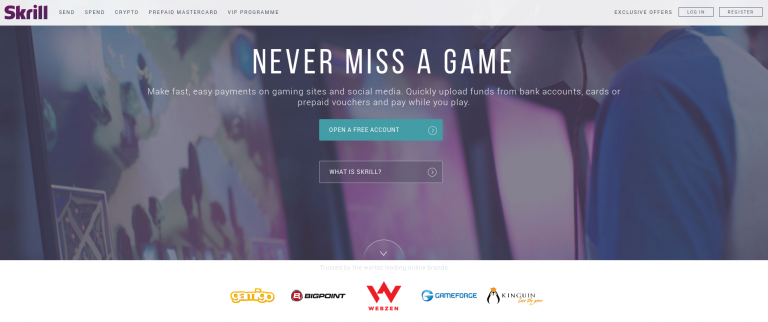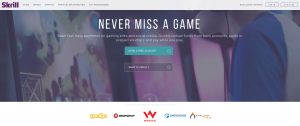 Skrill is a long-time financial player. Formerly known as Moneybookers, this payment service works within EEA. Through a series of acquisitions, Skrill has found its place in the Paysafe Group. Although Skrill is famous for money transfers, we will concentrate on the online payment feature.
Skrill differs from other payment apps as in concentrates on payments for gaming, betting, and Forex.
To use Skrill, customers need to download an app, create an account, and attach a payment card. Currently, this service is available in 40 currencies. Skrill supports Visa and Mastercard-based cards. So, how can customers use the app?
Web payments. To make social media payments or bet or play, customers need to upload funds. Then users pick their favorite games and select Skrill as a payment option.
In-app payments. This option is available for applications of those games/betting sites. Users simply select Skrill as a preferred payment option.
Skrill is a payment choice of 40 million users. We highly recommend merchants from the gaming or betting industry to provide this payment method. Right now, Kinguin, Gameforge, Gamigo, and others let customers checkout with Skrill.
Year. 2001
Region. Worldwide
A number of users. 40 million
Platform. Android and iOS
Parent company. Paysafe Group
What are the numbers saying?
As promised, we share some statistics to show that in-app and mobile payments are a future trend. Firstly, Statista states that the number of mobile payments users will be over 1 billion in 2020. Secondly, we trust in mobile payments growing popularity. Though they are on the seventh place now, we expect them to dislocate COD or bank transfers soon.
Merchants from various industries understand the tendency. Dating, beauty, and fashion industries are at the forefront of mobile payment acceptance. Do you belong to these kinds of retailers? That consider enabling in-app payments.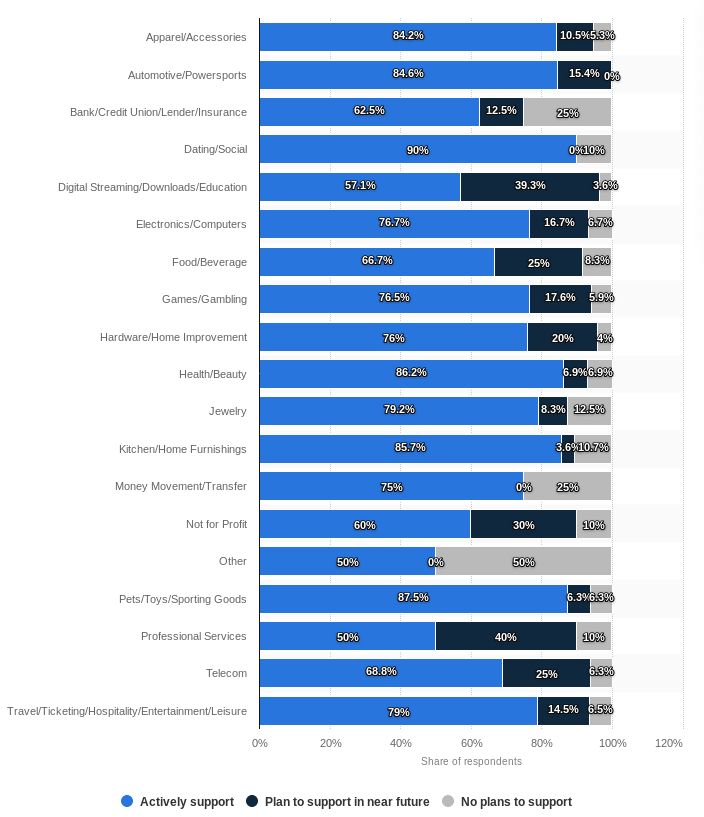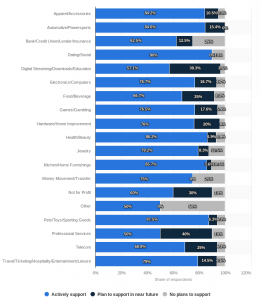 Mobile payments acceptance by industry
Moreover, the research says 39% of customers tend to use mobile payments option weekly. Anyway, though mobile/in-app payments are the easiest way for shoppers to checkout, it's still a challenge for merchants. Remember that a payment service provider can offer all-round support.
For instance, PaySpacelv offers a variety of payment methods to cover merchants' payment needs. When you share your industry, target audience, and GEO, the company's team will help you pick the best payment solutions.
Conclusions
New technologies are shaping the way people pay. No wonder, mobile payment apps have gained prominency. They are a perfect fit for modern users who live in a high-paced environment.
Customers benefit from the speed, comfort, ease, and security. Paying with mobile apps eliminates entering the payment data time after time. Also, it declines customers' frustration connected with failed payment attempts. As customers eliminate full payment card data re-entering, it lowers cart abandonment risk.
The list of top eight mobile payment apps can give an idea about what applications customers like to use. Trust us, they will be happy to see one of these checkout options on your site.
All-in-all, we recommend partnering with a trusted payment processor. Open a merchant account with PaySpacelv to get access to the top-notch payment solutions.