eCheck payments: top 8 questions with answers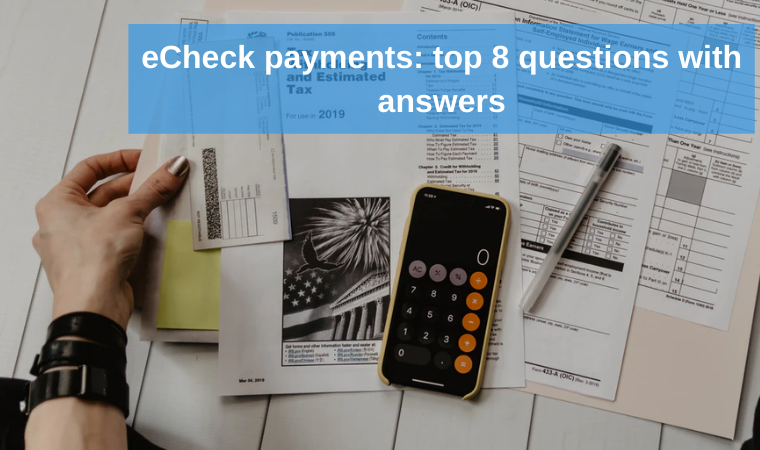 Are you wondering how to accept eCheck payments from your clients? Has someone requested an eCheck payment from you? Do you feel overwhelmed by eChecks? No worries. We compiled a list of the top eight most popular questions about eCheck payments with answers.
Top 8 things to know about eCheck payments
1. What is an eCheck?
eCheck, also known as an electronic check, is a form of payment where funds are electronically withdrawn from the sender's checking account and deposited into the receiver's checking account. The money is transferred over the ACH network. Sounds confusing? Don't worry. Let's find out what is a checking account and an ACH network.
A checking account is a deposit (savings) account held by a financial institution of your choice. Your bank, for example. It allows both to deposit and withdrawal funds.
ACH network is an electronic funds-transfer system. It processes financial transactions for e-commerce customers, businesses, and individuals. Imagine, you wake up in the morning and see the salary transferred to your bank account. That is an example of an ACH network in use.
To put it simply, eCheck is the electronic version of a paper check. The only difference is that you pay online. 
To provide eChecks on your website, you need to open an ACH merchant account. This way, you will be able to accept eCheck payments and withdraw funds directly from your client's bank account.
2. How does electronic check processing work?
Essentially, electronic check processing is similar to paper check processing. However, it is faster and eco-friendly — no wasting time for filling in the paper check manually. Thanks to the advanced technology, the client fills in and processes the eCheck payments electronically. It both saves time and, well, decreases the paper waste.
How to process an electronic check?
 Requesting authorization. A business needs to request an authorization to process an eCheck transaction. The authorization request can come as an online payment form, signed order form, or even an agreement on a phone.
Setting up payment. Once the authorization is over, a payment gateway (online payment processing software) accepts the data on payments.
Requiring ACH. When a payment gateway receives the information about the payment, the ACH transaction processing starts.
 Confirming the payment. The funds are automatically withdrawn from the customer's bank account. Upon completion of the payment, the software sends a receipt to the client.
See how the payment processing works to learn more.
3. What is the difference between an eCheck, ACH, and EFT?
EFT is an electronic funds transfer
EFT, also known as an electronic funds transfer, is a generic term. EFT includes:
Wire transfers;
eChecks;
Direct deposits;
Electronic benefits payments
ACH disbursements etc.
ACH is an Automated Clearing House
Don't panic. ACH is the U.S. electronic network that allows its users to send and accept digital transfers to both merchants and individuals.
Let's sum up: eCheck is a type of electronic funds transfer (EFT) which requires an ACH network to get processed. 
Once again, there are four main steps of an eCheck money transfer:
The funds are withdrawn from the payee's account.
Thanks to the ACH network, they are transferred to the payee's bank.
From the payee's bank, the funds are deposited to the payee's bank account.
4. What are the benefits of eChecks?
The eCheck processing fees are lower than those for credit card processing. That is the main benefit of offering eChecks as your payment option. Those merchants who sell high-cost items, prefer to accept eCheck payments. For example, antique agency owners will benefit from using eChecks more than if accepting credit card payments.
5. Can I use the eCheck for recurring billing?
Yes, you can use eCheck for recurring billing. Moreover, eChecks are one of the most popular types of recurring payments. Have you ever heard of a "recurring ACH"? This is the same as a recurring eCheck payments. To set up an eCheck recurring payments, you need to contact your PSP directly.
6. When do I, as a merchant, receive funds from an eCheck payment?
Though the eCheck clearing process differs slightly from PSP to PSP, it usually takes up to 48 hours. If the payer has enough funds available on his checking account, the merchant gets his funds within 3 to 7 business days.
7. How can I send an eCheck payment?
That's a tricky one. You can't send an eCheck payment to anyone you want. The person you send an eCheck to has to hold an ACH merchant account. This type of account allows him/her to use the ACH network and accept payments via electronic funds transfer. Otherwise, you can't process the transfer.
There are two ways to send an eCheck payment:
The online form. Either the receiver sends you an online payment to fill in, or you find it on a merchant's website. You print down your checking account number, routing number, and the amount of payment. Once you click "Submit," you permit the funds withdrawal.
The recorded phone call. The payee asks you for your checking account number and the routing number by phone. The phone line is recorded. Then, the payee inputs the financial information of yours, as well as the payment amount, into the online payment terminal. Once he clicks "Process," the payment processing starts. The withdrawn funds from your checking account are transmitting to the payee's checking account.
8. How much does it cost to process an eCheck?
Different businesses charge different fees to process eCheck. However, an average eCheck transaction fee ranges from $0.30 to $1.50.
Didn't find the answer to your question about eCheck payment processing? Leave a comment below, and we will provide you with a solution today.