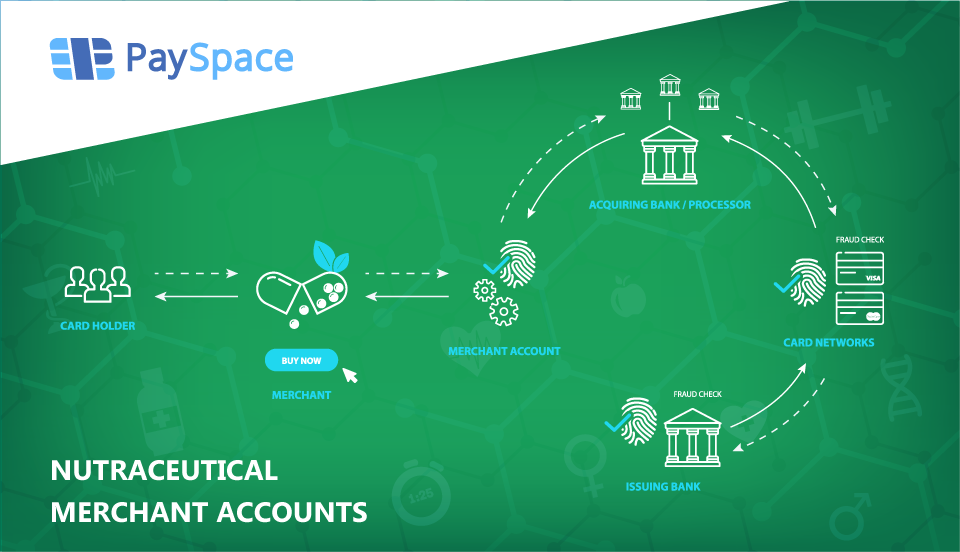 Nutraceutical businesses are pretty popular because they allow purchasing a range of healthy products over the counter, such as dietary supplements, natural medications, etc. Unfortunately, such businesses are considered to be high-risk by many banks due to possible high chargebacks, lack of regulation of natural supplements and herbal products, as well as continuity billing. This means that the owners may face a range of difficulties with opening a merchant account. Their applications for opening such an account may be rejected or they may be offered to pay high charges to cover the potential risks of the bank. This type of account is essential to accept credit and debit card payments, and that is why nutraceutical merchants need to find another solution to open a merchant account. Luckily, it is possible to do without worries and hassle.
Where Can I Open a Merchant Account?
We know that it may be challenging to set up a merchant account for your nutraceutical business, and we understand what exactly you need to ensure that your business will run smoothly. That is why we have developed an effective solution that will allow you to forget about your worries related to accepting payments from your customers. The product that we offer is not only beneficial for you, but also for your customers because they will enjoy quick, secure, and convenient payments for your products. We know that it is important to be flexible, and  for this reason, we have solutions for different business sizes and types.
How to Open a Nutraceutical Merchant Account?
We try to do everything possible to make the processing of opening a merchant account quick and painless, but it is also important to ensure that we have selected the best solution matching your requirements and your business needs. That is why we may ask you to provide some information about your business. You can be sure that we will not ask you unnecessary questions. Also, we do not conduct a credit history check, so if have a low credit score, you are still very welcome to use our services! We work with both US-based and international businesses.
Who Can Apply for a Merchant Account With Us?
We would like to approve every application for opening a merchant account, but, unfortunately, we cannot work with merchants selling some restricted product. Please, check the list of allowed and restricted products.
The list of allowed products:
Dietary supplements, such as minerals, vitamins, and others;

Hydrolyzed proteins;

Phytonutrients;

Dietary fiber;

Herbal products, such as garlic, ginger, ginseng, senna, echinacea, licorice, onion, turmeric;

Prebiotics;

Dietary enzymes, including bromelain and papain;

Carotenoids;

Probiotics and others.
Unfortunately, we cannot offer our services to merchants selling restricted products, such as:
Do You Need Chargeback Protection for Your Nutraceutical Business?
One of the reasons why the nutraceutical industry is considered to be high-risk is chargebacks. Since sometimes merchants become victims of fraud, and that is why they have to be protected as well. Moreover, there are a few things that can be done in order to keep the number of chargeback requests to a minimum, and we implement them in our day-to-day operations.
Our company has developed an effective Fraud and Chargeback Protection, which will allow you to conduct your business with peace of mind.
How Much Does It Cost to Use Our Services?
Setting up a high-risk merchant account might be expensive, but we do everything possible in order to offer affordable and quality solutions to our customers. We apply a flexible approach when determining pricing conditions for each customer. You will be able to choose something that matches your requirements the most while being sure that payments for our services will fit into your budget.
The following are some of the fees that you may have to play for our service:
Transaction Fee;

Merchant Account Fee;

Chargeback Fee;

Registration Fee;

Monthly Statement Fee;

Discount Rate;

Refund Fee.
How Soon Can You Get Your Merchant Account?
We know that you cannot wait to start accepting payments from your customers, and we try to keep application, approval, and installation processes as quick as possible. However, the speed of the setup and the integration of the ordered services depends on a range of factors, such as the business size, the types of payment systems, etc.
How to Find Out More Detailed Information?
Our customer and tech support staff is there for you to reply to all of your questions. Please, contact us to find out more detailed information related to setting up a merchant account for your nutraceutical business.