7 high-end eCommerce trends for 2020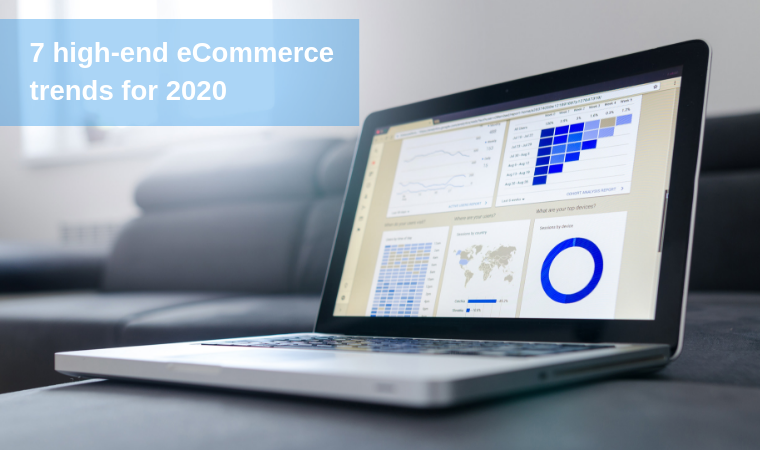 You should not leave eCommerce trends aside. Statista predicts 2,14 billion people to shop online by 2021 (that's 28% of the world's population). Imagine the opportunities you get by continuing to enhance your online business or going online.
In this article, we want to share seven eCommerce trends you need to take into account to grow your sales. Trust us, there are a lot of reasons that make people shop online. Your main task to keep up with the new eCommerce trends.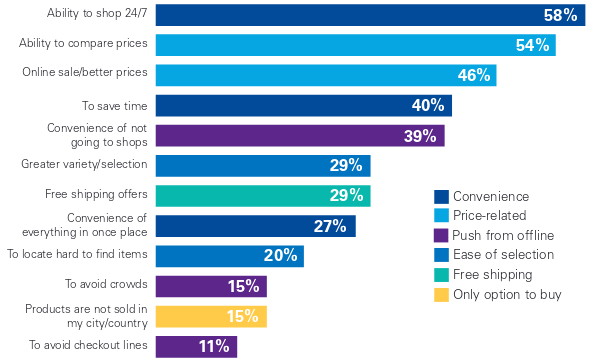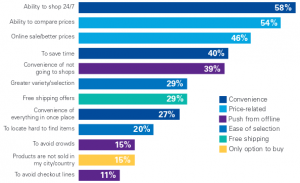 Why people shop online by KMPG
Seven hot eCommerce trends
1. Big data and automation
The customer-first approach is at the forefront of doing business nowadays. To satisfy all client's needs, companies use Big Data. Its main goal is to analyze and predict customers' behavior. Business owners can develop their strategies more effectively based on these forecasts.
Why do you need big data technologies?
there will be 40 zettabytes of data by 2020,
every user will generate 1.7 megabytes of data in seconds by 2020,
Internet users will create around 2.5 quintillion bytes daily by 2020.
No wonder the big data analytics investments will round up with $103 billion by 2023.
(by TechJury)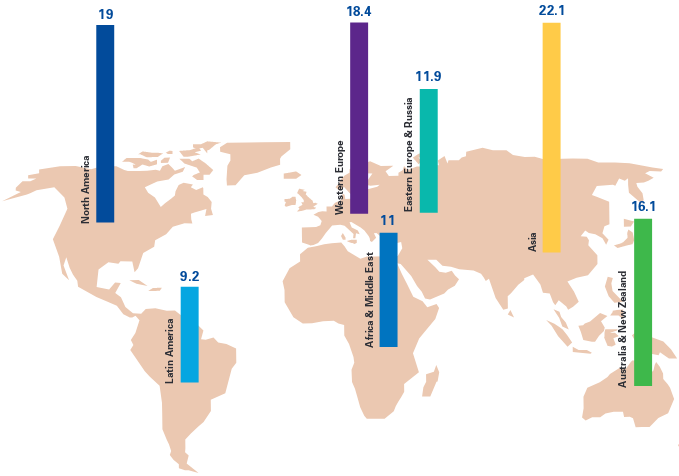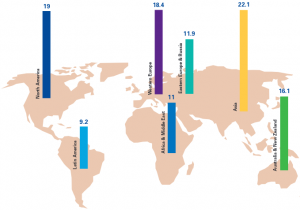 Average number of online transactions by KMPG
You require special technologies to organize, handle, analyze, and make predictions based on such impressive numbers. That is vital if you want to provide top-notch customer experience and cater to their needs.
Big data solutions are somewhat pricey. We recommend creating a buyer's persona after collecting some information from your users. This is a free option for your business to use.
In the second part of this eCommerce trend, we will talk about automation. Thanks to AI, business owners can embrace so many opportunities. And they are essential for the customer base growth and retention.
In virtue of AI, you can offer an outstanding customer experience:
helpful chatbots – fair to say, they are not the same as in, let's say, 2010. AI makes them more smart and robust. Acquire.io reports that 45% of users prefer chatbots for primary communication (regarding website features, product support, etc.).
real-time data – stock availability, customers, who have made a purchase, real-time parcel tracking, and so on. Those features help your clients to be in the know and feel confident about the purchases they have made.
N.B. In order to automate all-things checkout, connect with the payment processor. As a result, you will get a secured payment gateway with all the payment solutions your customer might need.
2. Omnichannel approach
One communication channel is not enough anymore. As Magenticians puts it, 86% of Millennials use at least two platforms to shop. And this is a considerable number. To cover a bigger audience, make a check-list about where your business is present.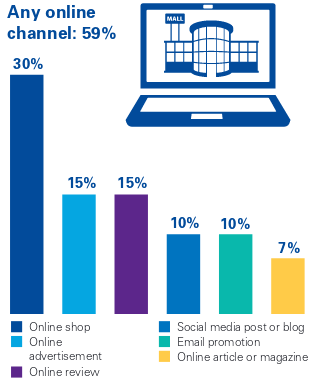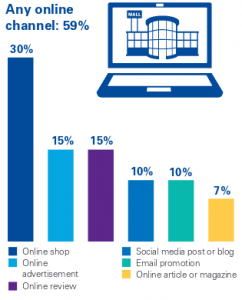 Channels where customers see products before the purchase by KMPG
Nowadays, users get to know about goods or services through different channels. So use them at their fullest. As you can see, 2020 trends in eCommerce will require building more strategies to promote products on different platforms. But it will return with more results as customer loyalty increase, revenue growth, audience enhancement, and so on.
3. New payment methods
Ecommerce growth trends won't be complete without mentioning new payment methods. While you say it's not that fresh, we reply that 2020 is going to be an alternative payment method year.
Let's take a look at the Payments Cards&Mobile latest report on the online payment methods (2018).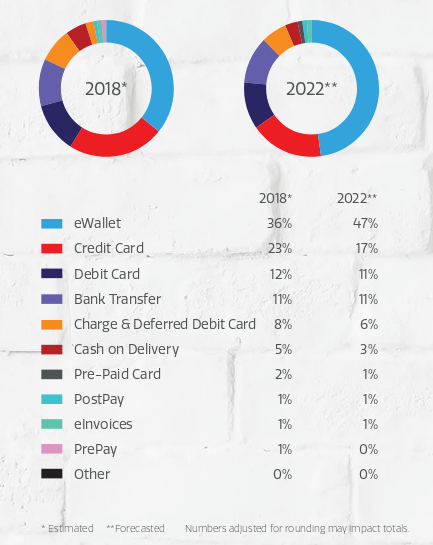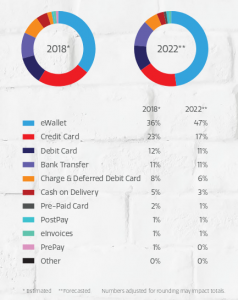 It becomes clear that traditional payment methods like credit and debit cards are losing ground. At the same time, alternative ones rise or continue to hold the same positions.
Remember to provide payment methods your customers use the most. If you target:
North America – think of including e-wallets at the checkout,
Latin America – offer e-wallets, postpay, and pre-paid cards,
EMEA – your go-for methods are e-wallets, bank transfers, and COD,
Asia Pacific – make sure to have a vast choice of the e-wallets.
You can find by-country preferred payment methods in the Payments Cards&Mobile report.
4. Mobile commerce
This trend will not only be on point in 2020 but will continue to grow in the follow-up years. MerchantSavvy informs that mobile payment share will reach 28% by 2022.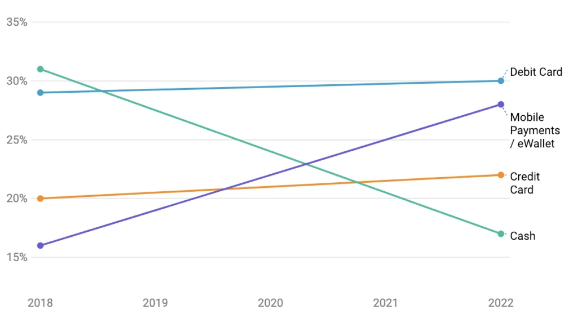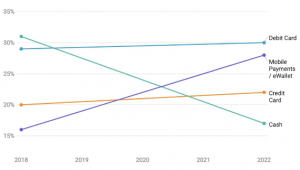 Based on the Statista graph, the most e-merchants support mobile payments. But taking into account rapid mobile commerce growth, make sure to offer this payment method to your customers.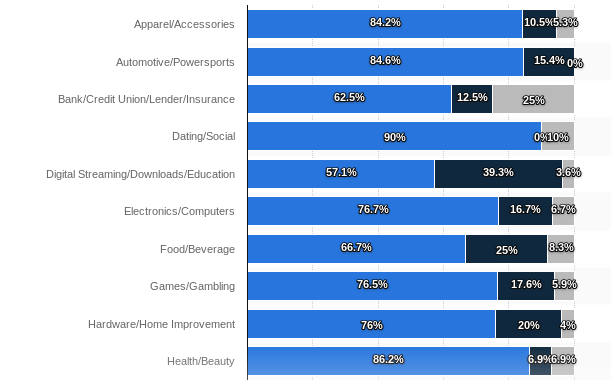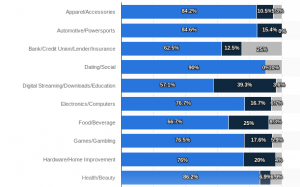 You might also like Why your business should accept mobile payments.
5. Social commerce
Social commerce drastically influences trends in the eCommerce industry. Statista shares that Facebook has over 2.8 billion active users. Instagram (a part of Facebook) has 1 billion daily active users. And the amount of time users spend on those platforms by much surpasses other ones.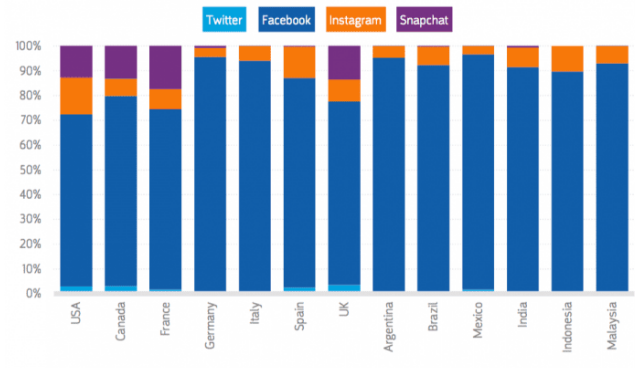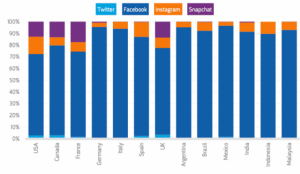 Instagram gives a lot of opportunities for your brand. Instagram users can now deploy this platform not only to find out more about brands or their new collections. The latest option is Instagram checkout. Which means your clients can shop directly from the platform.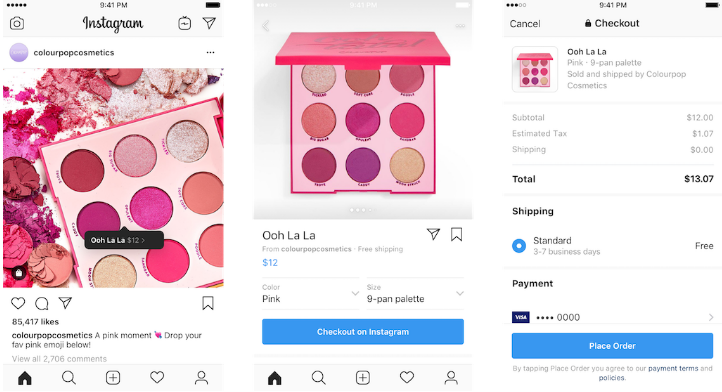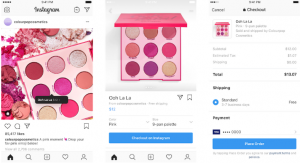 Instagram checkout (by Instagram-press)
Top brands like Adidas, Dior, H&M, and others are testing Instagram checkout now. But we believe these social commerce examples are go-to 2020 trends. Before taking on Insta-checkout, your brand can try using the "View Products" option and direct clients straight to your store.
6. Voice commerce
Invespcro believes half of all searches to be the voice ones (by 2020). Moreover, users will spend $40 billion using voice shopping (by 2022).
We are sure this is an eCommerce trend not to miss out. Ensure your online store lets customers look for the products and add them to cart via voice assistant. Here is a picture showing what merchants can benefit from the enabling voice search.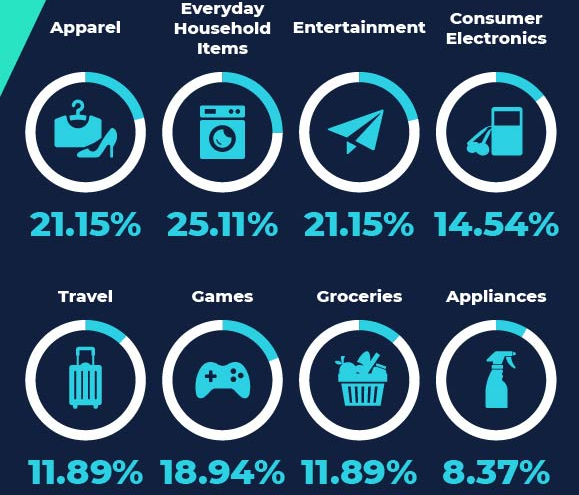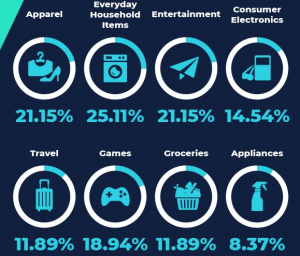 Full statistics on the voice search trends from Invespcro.
7. Video content
Research says that brain processes videos 60,000 times faster than written content. Moreover, Hubspot puts that 85% of online shoppers are more likely to buy goods/services after they watch a promo video.
Stuart Weitzman uses this trend with full force on the website's main page.
Other examples of the stunning promo videos for new products or collections are Puma, Singapore Airlines, Nike, Airbnb, Adidas, and more brands.
Keep in mind that 40% of millennials use YouTube as a primary place to search for the information. It's another awesome opportunity for your business to grow. Create a YouTube channel if you don't have any. Plan your media strategy and start promoting your brand.
Conclusions
The mobile commerce growth, processes' automation, new payment methods emergence – fresh eCommerce trends pop out so fast. We believe our list of the top seven eCommerce trends in 2020 will ease your life.
As a business owner or top-manager, consider implementing at least one trend. We do trust a vast choice of new payment methods is a must-have option. PaySpacelv will gladly help you connect a payment gateway with the payment solutions your customers need. Moreover, PaySpacelv has solutions for mobile payments as well.
It's time you shared your opinion. What eCommerce trend(s) would you add to this list? Leave a comment and let's discuss!