Cryptocurrency: the 9 most popular types of coins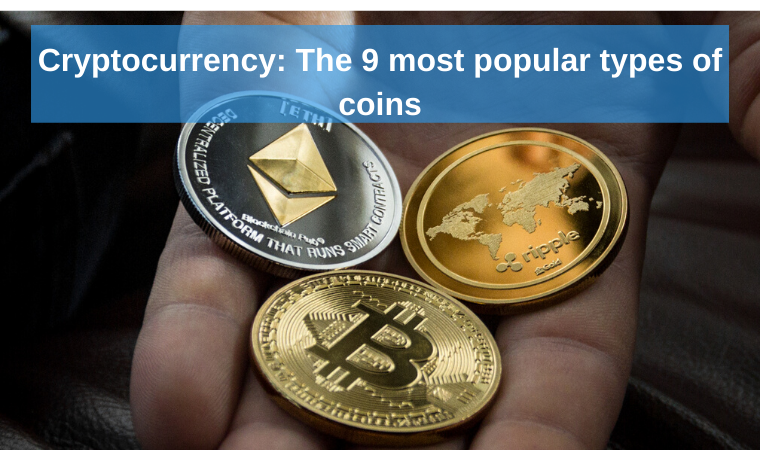 The true products of the digital age, cryptocurrencies aren't сontrolled or guaranteed by any government. Moreover, they are volatile and considered high-risk. At the same time, cryptocurrency payment processing is cheap, rapid, and does not imply chargebacks. We are going to discuss nine of the most popular types of crypto coins merchants can use at the checkout. 
Crypto Tokens vs. Coins
All coins and tokens fall under the name of crypto. Yet, they generally go into one of two categories: Alternative Cryptocurrency Coins (Altcoins) or Tokens.
Alternative Cryptocurrency Coins (Altcoins)
By Altcoin one typically understands any coin that is not a Bitcoin. For example, Peercoin, Litecoin, Dogecoin, Auroracoin, and Namecoin. To dive deep, the word "Altcoin" actually means "alternative to Bitcoin." The Namecoin is the first Altcoin, created in 2011.
Many Altcoins are presented as better versions of Bitcoin. Yet, most of them are built by using the same basic framework. Even so, each system differs from another. Altcoins serve various purposes and are identified in different ways. Besides, some coins don't work with the open-source protocol like Bitcoin does. Ethereum, Ripple, Omni, Nxt, Waves, and Counterparty, for example, have designed their own separate system and protocol. That means they are entirely self-supporting. 
Tokens
The core difference between Altcoins and tokens is that the latter are generated and given out through an Initial Coin Offering, or ICO. They can be represented as value tokens (Bitcoins), security tokens (to secure your account), or utility tokens (created for specific uses).
The most common types of cryptocurrency
The following cryptocurrencies represent the most popular crypto coins today:
1. Bitcoin
Possibly the "Nike" or "Coca Cola" at the world of crypto, Bitcoin is the most recognizable and the most closely associated with the cryptocurrency name. Today, there are
18,336,425 BTC in
circulation
.
2. Bitcoin Cash
Introduced in 2017, Bitcoin Cash rapidly grew into the most popular type of cryptocurrency on the market. The main difference with the original Bitcoin is its block size: 8MB. Such a feature guarantees faster processing speeds.
3. Litecoin
Litecoin is widely embraced in the same ways as Bitcoin, and it functions pretty much the same. It came out of stealth in 2011, designed by Charlie Lee, a former employee of Google. Lee designed it to enhance Bitcoin technology, and create the Altcoin with shorter coin transaction times, and lower fees.
See how to start accepting Litecoin on your website. 
4. Ethereum
Unlike Bitcoin and Litecoin, Ethereum mostly focuses on decentralized applications (phone apps), not a digital currency. That what makes Ethereum a win-win option for merchants who run apps.
Learn how to start accepting Ethereum on your website/app. 
5. Ripple
Being a type of cryptocurrency, Ripple is not Blockchain-based. It is initially designed for large corporations, transferring large amounts of money (its coinage is known as XRP) across the globe. Thus, offering it as a payment method on your website only makes sense when you have an extremely high average check amount. 
6. Stellar
The primary purpose of the Stellar network is to make day-to-day money transfers faster and more efficient. It was designed by Ripple co-founder Jed McCaleb in 2014 and is now operated by a non-profit organization called Stellar.org.
Another goal of the Stellar network is to contribute to the developing economies. The citizens of such areas are usually cardless and unbanked. Not only Stellar doesn't charge users or institution for using its network but also covers operating costs by accepting tax-deductible public donations.
7. NEO
Initially known as Antshares, NEO is developed in China and is now actively pawing its way to become a global crypto player. Its core focus is on smart contracts (digital contracts). They enable users to create and execute agreements without the use of a middleman. Today, NEO breathes in the back of its main competitor, Ethereum.
According to Erik Zhang, NEO former, his network has three main advantages over Ethereum. The better architecture, the more developer-friendly smart contracts, and digital identity and digital assets for easier integration into the real world.
8. Cardano
Cardano is mostly utilized to send and receive digital funds. The network is founded by Charles Hoskinson, who is also the co-founder of Ethereum. Cardano presents itself as the most sustainable ecosystem and the only coin with a scientific philosophy and research-driven approach. That is to say, Cardano formers invest in rigorous reviews by scientists and programmers. 
9. IOTA
Presented in 2016, IOTA stands for Internet of Things Application (IoT). Unlike most other crypto technologies, it doesn't work with a block and chain. It focuses on smart devices on the Internet of Things.
What types of crypto should I use at the checkout?
At PaySpacelv, we mostly recommend offering Bitcoin, Litecoin, and Ethereum. These are the most common options global customers use to pay. Those running apps benefit from Ethereum as well. Apply here to open a cryptocurrency merchant account. By the way, if you want to accept any other type of crypto, we can set it up for you as well. 
How can you, as a merchant, start accepting crypto?
The application procedure doesn't differ much from opening a credit card or ACH merchant account:
You fill down

a short application

on our website, and we arrange a call. 

After the quick call, we send you a cryptocurrency merchant account application to fill down.

Once our compliance checks out your application, we discuss processing fees and payouts schedule. We also clarify integration type and whether you want to get payouts it euro, dollars, or crypto. You can opt for any other local currency as well. 

When everything is clear and discussed, we provide you with a payment gateway and a merchant dashboard that allows tracking transactions. 

Then, you

start accepting multiple types of crypto

(Bitcoin, Litecoin, Ethereum, e.g.)
All in all, the choice of cryptocurrency is up to you. We are here to help you make crypto payments as rapid and smooth as possible. Should you have any questions, leave a comment below.