E-Check payments: what is it and how does it work?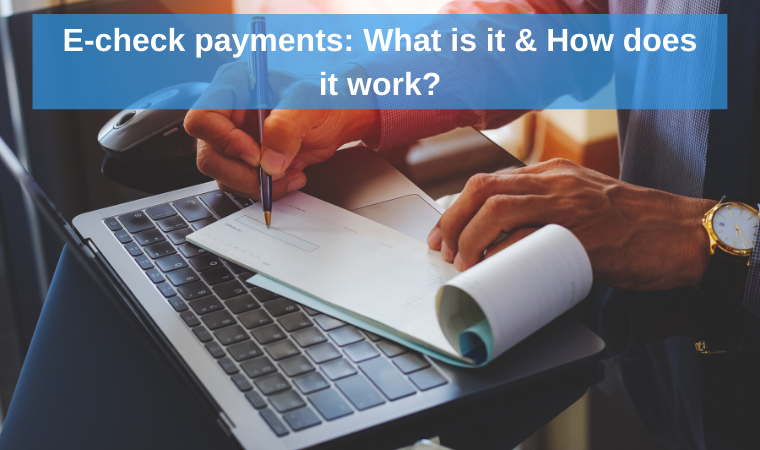 In 2020, e-check payments are rising to prominence. To estimate the volume, consider that in Q1 2019, ACH Network Volume grew 5.8% over Q1 2018. No wonder that you, as a merchant, don't want to miss the hype. Let's figure out what e-check is, how it works, and how much it costs to use e-checks for your e-commerce business. 
What is an ACH network?
Prior to diving into e-checks, you have to understand the nature of the ACH network. Don't skip this part. ACH comprehension is essential as it lays down the foundation for e-checks payment processing.
ACH is the Automated Clearing House network. It enables and regulates electronic payments and automated money transfers inside the U.S. The ACH system consists of computers, working together, to process e-check payments automatically. 
Neither a merchant nor a client has to do it manually (unlike paper checks). Today, the ACH network processes millions of transactions daily.
Key takeaways:
ACH is a system that regulates and processes e-check.

All the processing is done automatically. 

ACH Network processes millions of transactions at the end of the day.

You can use ACH to target the U.S. audience only.  
What is an e-check?
Now, let's proceed to e-checks. An electronic check is a digital form of a paper check. Yet, the difference is crucial. First, e-check is processed way faster than a paper one. Secondly, embracing electronic checks prevents global paper waste. 
Technically, e-check is a bank-to-bank transfer led by the ACH network. As a merchant, you can offer e-checks as a payment method on your website. However, it is only possible for the U.S.-based businesses since the ACH network functions in the United States only.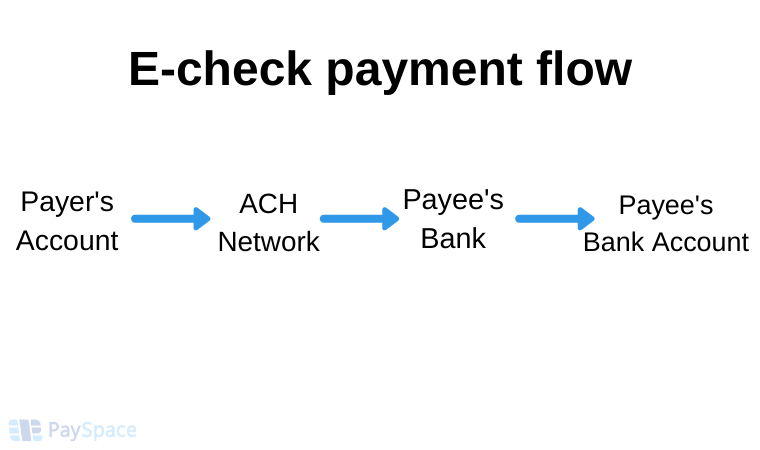 Key takeaways:
E-check is an electronic version of a paper check. It is more rapid and eco-friendly. 

ACH network regulates the processing of e-checks. 

Accepting e-check payments is only accessible for the U.S. merchants.

Direct debit, ACH payment, and ACH transfer are the other names of e-check. 
How do e-checks work for businesses?
With e-checks, funds are digitally transferred from the client's checking account and directly deposited to the merchant's account, after passing through the ACH network.
 Here is how it goes when you offer an e-check as a payment method on your website:
A client enters your site.

Then, he/she selects a product and presses the BUY button.

The client gets redirected to your checkout page.

He/she chooses e-check as a payment method. 

Electronic check form emerges. The client fills down his checking account number and routing number. 

Once the client fills down the form and presses SUBMIT, the funds are automatically deposited from his/her checking account.

By pressing submit, the client agrees on funds withdrawal. 

The client receives the payment initiation confirmation. 
As a merchant, you don't need to do, well, anything. You integrate e-checks as a payment method on your website, and that's it. All the processing will be done automatically. And that's the most significant advantage of e-checks over paper checks: no prolongations, no manual work, no paper waste.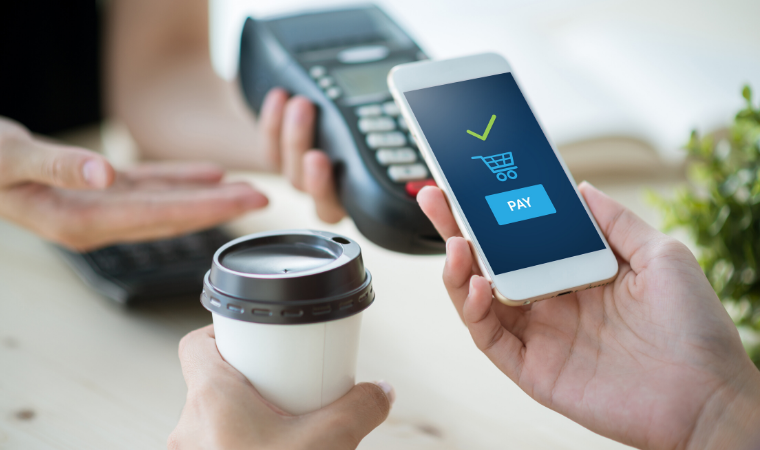 How does a business get an e-check merchant account?
As an e-commerce merchant, you probably already know that to process payments, you need a merchant account. If you don't know what a merchant account is, check out What Is A Merchant Account & How To Get One. 
If you valued all the pros and cons of ACH payment processing, and are sure about your decision, you need to open an eCheck merchant account. The entire procedure is similar to getting a credit card merchant account. Once you found a best-fit merchant account provider, you will need to submit the following:
Federal Tax ID;

Years in business;

Estimated processing volumes;

Application.
All the information should be included in the application. The latter will be given to you by a company representative. Approval can happen in a matter of days. Usually, it takes from five business days up to a month. 
How much does it cost to process e-checks?
Now when you understand what the e-check is and how it works, you might get curious about the cost. And that's understandable. No merchant wants to pay extra. The good news is, processing e-checks is affordable. Moreover, it is one of the cheapest payment methods on the market. The average fee ranges from $0.30 to $1.50 per eCheck transaction.
What businesses benefit from offering e-checks?
In total, there are three types of businesses that benefit from e-checks most:
Subscription-based businesses.

From online courses to memberships to media subscriptions,

eChecks make recurring payments, autopay, and auto-renewal, both easy and customer-friendly.

Any subscription-based business would benefit thanks to electronic check payments.

Businesses with large volumes.

As you remember, e-check is a direct bank-to-bank transfer. That means there is no intermediary involved.

By minimizing the presence of mediators, businesses avoid interchange fees.

That's why accepting e-check is cheaper than credit and debit cards. If you run a business that processes payments in thousands of dollars, you can save a significant amount by implementing e-checks.   

Businesses with a high average check amount.

The core principle behind e-check is

the larger your average check amount, the better the savings.

To process an e-check, you pay a fixed sum per transaction. The average charge for e-check payment processing ranges from $0.30 to $1.50. 
Doesn't it seem that e-checks fit your business needs? No worries. Learn How To Accept Payments for All Types of Businesses.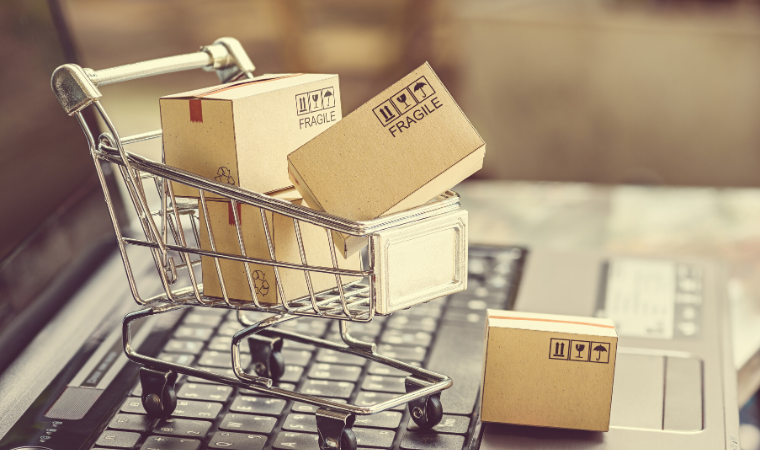 What is the difference between processing e-checks and credit cards?
While credit card transactions are processed through major credit card networks, e-checks are processed through ACH. It minimizes the number of parties involved and makes e-check more affordable. Another benefit of e-checks over credit cards is a fee structure.
With e-checks, you pay a fixed sum per transaction ( from $0.30 to $1.50). In credit card payments, on the contrary, you pay a fixed percentage (usually 2.9% + 30 cents per transaction).
Let's say that your average check amount is $2000. If a client pays for a product with a credit card, you give up 2.9% to a PSP (merchant account provider). That's $58 per transaction. If a client pays via the e-check, you give up from $0.30 to $1.50. Quite a difference!
The average processing time also differs. However, not in the e-chek's favor. Credit card payment processing takes up to three days. Processing ACH requires from three to five days.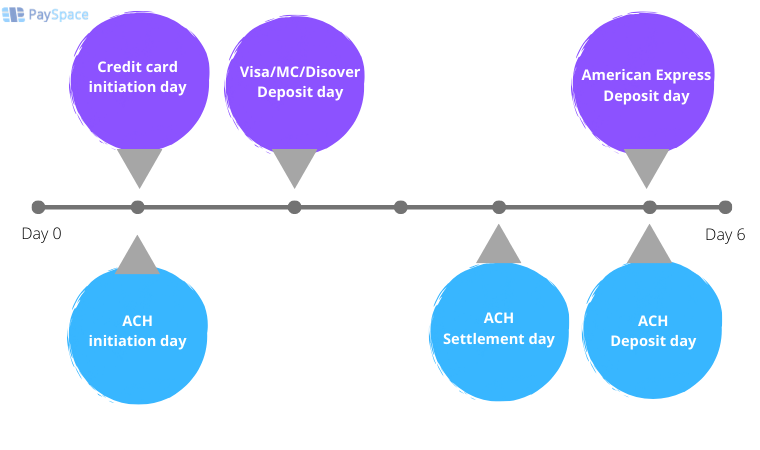 Summary
E-check is an electronic version of a paper check. The ACH network regulates the processing of electronic checks. To start accepting e-checks on your website, you need to run a business inside the U.S. and open an ACH merchant account. The average price of e-check ranges from $0.30 to $1.50. Accepting e-checks is a best-fit for merchants with subscription-based businesses, large sales volumes, and a high average check amount. All in all, e-checks are here to stay and will undoubtedly evolve in due course.