PayPal vs. Stripe: What's best for your business?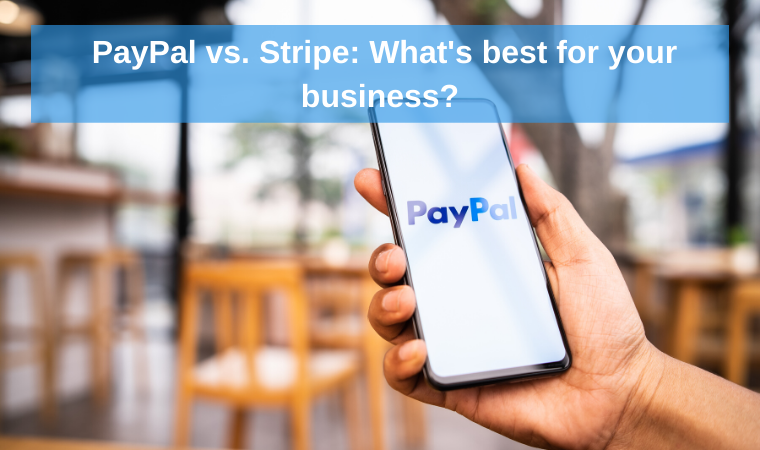 The decision of whom to confide your payment information is always a difficult one. From payment processing speed to the fee structure, different payment providers have different features. The same is true for PayPal and Stripe. Though popular and trusted, they are different and cater to different needs. What's best for your business? Let's find out.
PayPal vs. Stripe: Quick comparison
PayPal and Stripe are both digital credit card processors. Moreover, they have similar pricing. Both PSPs charge 2.9% + $0.30 per transaction. Both provide invoicing and recurring billing. Yet, PayPal is known for its ease of use and a big name, while Stripe provides a deeper feature set thanks to powerful developer tools.
PayPal features & tools 
PayPal's core product is its payment processing. It enables anyone to make a payment to a merchant using their PayPal balance or a credit or debit card. Besides, merchants who use PayPal get access to a variety of additional services. 
Overall, there are three types of PayPal service plans:
Checkout: PayPal Checkout is just what it sounds like. Thanks to it, you can add PayPal to your existing payments page if you already accept credit cards through another processor or are integrating with an eCommerce platform. 
Payments Standard:

If you don't use the services of a PSP yet, PayPal Standard might become your main payment processor. Thank to adjustable payment buttons, you can integrate PayPal as your shopping cart. Though customizable, Payments Standard doesn't require a lot of technical knowledge.

Payments Pro:

The plan combines all the PayPal features, a virtual terminal, and an HPP for a monthly fee and processing costs. The HPP stands for a hosted checkout page. That means your customers won't be redirected to the PayPal website. They will be able to finish the transaction at your site/e-store.
Those worrying about PCI compliance will love the fact that most of PayPal's plans are in charge of security. 
PayPal's other services include:
PayPal Here mPOS

Online and in-app invoicing

Donation and Buy buttons

Mass payouts
Moreover, if you want to sell in your physical store, PayPal offers a couple of integrations with the top POS systems for retail and food businesses, with forecastable, flat-rate pricing.
Stripe features & tools 
Unlike PayPal, Stripe doesn't have "service plans". Your access to Stripe payment processing features remains the same no matter which other features and tools you decide to use.
Stripe's online payment processing tools are:
Support for credit cards, ACH, and localized payment methods

Support for online and in-app checkouts

A pre-built embeddable checkout form (Checkout), plus the ability to build a form from scratch or using pre-built components (Elements).

Invoicing, recurring billing, and subscription tools
Stripe has come up with a beta called Stripe Terminal, which is an SDK that enabled you to integrate Stripe payment processing into a point of sale app, either on a mobile platform or on the web.
Additional notable features include:
Stripe Radar: Advanced fraud management tools

Stripe Sigma: SQL-based business intelligence

Stripe Connect: Marketplace and platform-building tools

Stripe Issuing: Generate physical and virtual cards for purposes such as employee expense accounts
Keep in mind that Stripe isn't as easy to use as PayPal. And speaking about the above-mentioned features, you need a developer to get started. 
Comparing PayPal vs. Stripe
As you see, PayPal and Stripe are two different payment platforms. The two things they have in common are PCI compliance and reporting.
Stripe handles PCI compliance for its merchants. That means no fees or additional work on your part. PayPal Standard plan automatically provides you with PCI compliance as well (once again, no additional fees). Yet, with the PayPal Payments Pro plan, you are in charge of some burdens for ensuring PCI compliance. It doesn't cost you much extra. However, it requires more effort from you. 
Both Stripe and PayPal comprehensive reports. PayPal's reports are advanced, but are not customizable, unlike Stripe's reports. It is also worth mentioning that PayPal does have developer tools. That's a great benefit if you have a developer on hand but you want a bit of customization. PayPal's developer tools can be used for adjusting the checkout process, sending mass payouts, and even constructing platforms. However, PayPal's platform isn't as sophisticated at Stripe when it comes to developer tools, APIs, and documentation. It's just a matter of whether you have enough skills or a developer on hand to put them to use.
Fee structure
PayPal's pricing is, in general, pretty clear. No monthly fees, no monthly minimums, and, thankfully, no interchange costs to worry about. You are only required to pay one flat fee no matter the type of card. That makes PayPal's pricing very predictable. However, keep in mind is that PayPal charges different amounts for different payment options:
Online Transactions:

2.9% + $0.30

Online Invoices:

2.9% + $0.30

POS/mPOS (PayPal Here) Transactions:

2.7%

Keyed Entry Transactions:

3.5% + $0.15
If you're penetrating the global market, PayPal charges a minimum of 3.5% as an exchange fee between the US and Canada, and a minimum of 4% between any other countries. And that's what makes it not profitable for international sales. 
Stripe payment processing costs are a bit more complicated and tricky. Especially for those businesses that want to use the complete range of Stripe's tools. Yet, there are, once again, no monthly fees, monthly minimums, or any early termination fees required for Stripe's service.
Online Credit Card Transactions:

2.9% + $0.30

ACH Transactions:

0.8% (capped at $5)

Stripe Terminal (POS) Transactions:

2.7% + $0.5
Stripe charges a 1% fee for international credit card processing and an additional 1% fee if currency conversion is needed. That is what makes Stripe more profitable for international sales. Another thing about Stripe that is different from PayPal is that it accepts ACH transactions. They are only available in the U.S. 
Summarizing PayPal vs. Stripe
Both PayPal and Stripe are good options to consider when looking for a PSP. For most online transactions, they charge the same amount. Yet, Stripe also accepts ACH and is more profitable for businesses operating globally. PayPal is technically easier to use, while Stripe has a wider range of features that, though, require a developer to get started. Thus, PayPal is a better option for businesses with fairly simple or standard eCommerce requirements. Stripe, in its turn, is a better option if you aim to build a customized online storefront or a complex platform for a SaaS subscription product. 
Have you used any of the platforms? Comment about your experience below!